You can find the available nursing assistant classes in Hendersonville, North Carolina that are currently open below. To learn more about how to enroll in these programs you can call to speak with an administrator of the facility.
Vance-Granville Community College/Vance County Main Campus
200 Community College Rd, Henderson, NC 27537-6951
(252) 492-2061
http://www.vgcc.edu/
The only way to start working as a nurse aide I in the state of North Carolina is by getting into the Nurse Aide I Registry by passing the competency exam. Every aspiring nurse aide must take this exam, including CNAs who are registered in another state.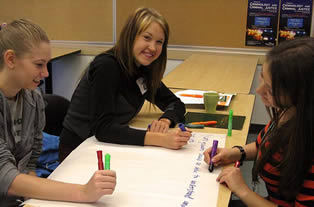 The first part of the exam is the written exam. This is a 70-item multiple-choice test. Out of all the items, only 60 of them will be recorded since the 10 are pre-test questions. You will be given two hours to answer all of the items.
If you want, an oral exam can be taken in place of the written exam. This examination may be taken in either English or Spanish. You will be provided a cassette tape and some earphones by the testing center when you take this type. This exam will also have a total of 70 items must will consist of two parts. The first part of the test will be about the different topics related to nursing aide, while the second will test your ability to understand common English words. Like the written exam, you will also have two hours to complete this test.
The second part of the examination is the clinical skills exam. In this portion, you will be required to perform 5 randomly selected nursing procedures in front of a nurse aide evaluator. This test is designed to resemble an actual clinical scenario. To pass this portion, you must perform all the skills satisfactorily. You can find a complete list of the nursing task that may come out of the exam, as well as a sample of the written exam, by downloading a copy of the Candidate Handbook (http://asisvcs.com/publications/pdf/073400.pdf).
As soon as you are done with any of the exams, the evaluator will fax your answer sheet to be scored. You can get the official Score Report in about 10 minutes. The score report will indicate whether or not you passed the exam. If there are any technical problems, your Score Reports may not be received on your exam date. If this happens, you can expect your Score Report to arrive in the mail within 5-7 days. If there are any problems or delays about your Report, you can call Pearson VUE at (888) 204-6207.
This is the county seat of Henderson County. You can find this city about 22 miles east of Ashville. It is also a part of the Asheville Metropolitan Statistical Area. According to the census of 2010, their total population has now reached up to 12,223 people. It has a total area of 6.0 sq miles, where all of it is land. It has a population density of 1,749.7/sq mile. This city was originally known as the "The City of Four Seasons".
Examples of health care centers that you can find in the area include Sixth Avenue Psychiatric Rehabilitation Partners, Apple Valley Clinic, Family Preservation Services of Nc Inc., Parkway Behavioral Health, Western Carolina Urological Associates PA, Pardee Hospital, Kiefer Family Chiropractic Care, The Pain Center of Hendersonville, Henderson County Free Medical Clinic Inc., Families First of Nc LLC, and Blue Ridge Community Health Services Inc. photo attribution: ufv