The nurse aide training being offered in Great Bend, Kansas are listed here. Included in the list are private and community colleges, high schools, and community training centers available at this time.
Barton County Community College
245 Northeast 30th Road,
Great Bend, KS 67530
(620) 792-9298
http://www.bartonccc.edu/
Cherry Village
1401 Cherry Lane,
Great Bend, KS 67530
(620) 792-2165
If you are wondering whether you are able to enroll in a CNA program or not, you should know that these programs are open to anyone so long as they meet the enrolling requirements. Each program has its own set of requirements to be enrolled. One of the most common is being able to show a high school diploma or something that is equivalent to it. By enrolling in a state-approved program, you will be able to send in your application form for the license exams.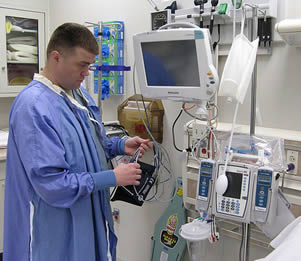 Taking the exams is an important step since it will be the only way for you to get your name in the Nurse Aide Registry. If your name is not in the Registry, you will not be eligible for work in any nursing facility. To get your name in the list, you will need to pass both the written exam and the skills evaluation exam.
Once your name is entered in to the registry, it will be easy for you to maintain that status. The nurse aide licenses in Kansas need to be renewed every two years. If you were able to work for at least 8 hours with pay during that span, your renewal will be free of charge. You can choose to renew your license either through paper on online. You can call the Kansas Nurse Aide Registry at (785) 296-6877 for the latest information about maintaining your license. In addition you can visit www.ksnurseaidregistry.org for details about updating your information or work verification via the Health Occupations Credentialing Employee List.
This city is the county seat of Barton County. This city was named after its location at the bend of the Arkansas River. With a total population of 15,995 people during the 2010 census, they are currently the most populous city in the county. It has a total area of approximately 10.7 sq miles and a population density of 1,500/sq mile. Major roads that you can access to this city are U.S. Routes 56, 281, as we as State Route 156.
The Great Bend Regional Hospital and St. Rose Ambulatory & Surgery Center are the two primary health care facilities that are serving this city. Other health care centers that you can find in the area include St Joseph Family Medicine, Heartland Regional Health Clinic, Bright Horizons Inc., Central Kansas Family Practice, Central Kansas Women's Health Center, Hearing Healthcare of Hutchinson, Greene Chiropractic Center, St Joseph Family Medicine, Kansas Medical Specialists, and Assurance Family Care. photo attribution: armymedicine