The nurse aide schools in Glenside, Pennsylvania that are on this page provide all the instructions that you need in order to become certified in the state. Call the phone number for the facility to get the recent schedule of programs offered and the cost of tuition.
Princeton Information
137 South Easton Road,
Glenside, PA 19038
(215) 576-7377
A competent nursing aide is someone who can properly meet the individual needs of his patients. The welfare of the patients has always been a priority. A nursing aide must learn the knowledge and skills necessary to take care of the patients. That is why nursing aide candidates are required to enroll in a nursing aide training program that's approved by the state's Department of Education.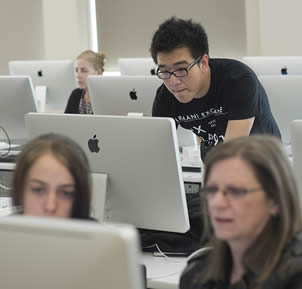 A nursing aide in the State of Pennsylvania must be at least 16 years old to be employed. He mustn't have any exclusionary convictions in order to pass the mandatory background checks. The background check result is a requirement to get accepted into a certified CNA school. No nursing aide candidate is allowed to start training without receiving results of the check.
CNA training can be found throughout the state. They comprise of theory and practical training, which are both taught at the same time. All training programs are required to last 80 hours. Depending on the school's training schedule, it can take from about 3-4 months to complete a program. Candidates who wish to finish earlier should consider enrolling in the American Red Cross 4-week training course. They can learn more about it by going to: http://www.redcross.org/pa/philadelphia/local-classes/nursing-assistant-training.
During instruction some of the information you learn during instruction will include: health care safety procedures, nursing theory, checking & measuring vital signs, infection control, personal hygiene & toileting, resident nutrition, catheter care, patient rights, restorative care, postmortem care, and range of motion exercises.
The final challenge of becoming a certified nursing aide is taking the exams. This exam comprises of a multiple-choice knowledge test and a random practical skills test. Candidates are required to pass both tests within 24 months after completing their training. Candidates who fail to pass within that time must complete another program before they can reapply for the exams.
Nursing students may apply for the CNA exams without undergoing training in a state authorized program. Applicants through this route are only given one attempt to pass. They must complete a program if they fail at least one part of the exams. Nursing students must be able to provide proof of education and training to qualify for the exams. To find the testing location in your city you can contact American Red Cross at 800-795-2350 or get a referral from the school you used for instruction. There are practice tests available from the Pearson Vue company to help you prepare for the exams. To learn more about the certification exams you can call Pearson VUE at 1-800-852-0518.
CNA applicants who can pass both tests will get a place on the Nurse Aide Registry. According to the law, only certified nursing assistants are allowed to work in a Medicaid or Medicare long-term care facility. Names on the registry will only remain there for two years. Certificate holders must renew their registration to keep their eligibility to work. The state requires that an employee must be able to work for at least 8 hours while under the supervision of a registered nurse to qualify for renewal.
A CNA from another state can apply for a place on the PA-NAR through endorsement. Reciprocity allows them to work in the state without any need for further training or testing. They must have an active certification and a clean record – meaning they must not be on the Abuse Registry – to qualify for reciprocity. Applicants will be required to provide some identifying documents, work history and school transcripts. Interested workers need to contact the NAR at (800) 852-0518 to find out if they qualify.
This is a census-designated place that is in Montgomery County. This CDP is a part of Cheltenham, Abington, and Springfield Townships. It borders the city of Philadelphia and is also just a few miles from Center City. According to the census of 2010, their total population was estimated to be 8,384. The CDP has an estimated population density of 6,449.2 / sq mile. The total area of Glenside is approximately 1.3 sq miles, all of it is land. Major roads that are accessible to the area include State Routes 73, 152, and 309.
The PA Foot and Ankle Associates, Northwestern Human Services, North Hills Health Center/Resh, Allied Associates In Mental Health, Consumer Connections, Milestones Community Healthcare Deaf Services, and the Physicians Institution are some of the health care providers that are located in the area. photo attribution: ufv