You can see the certified nurse aide programs that are in the town of Fennimore, Wisconsin that are open for enrollment listed on this page. To receive additional information about the certified nursing assistant classes that are available, please call the number below.
SOUTHWEST WISCONSIN TECHNICAL COLLEGE
1800 BRONSON BLVD
FENNIMORE, WI 53809-
(608) 822-3362
(Mutliple classes are being offered)
Becoming a certified nursing aide or CNA can be one of the best career decisions you can make nowadays. This profession is one of the most in demand in the field. There are plenty of jobs waiting – which means a stable career, not to mention the numerous opportunities to climb up the career ladder.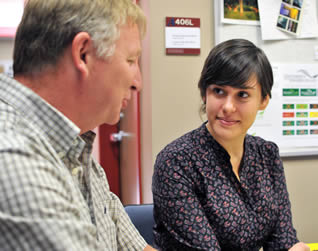 Unlike other healthcare professions, training to become a nursing aide is much quicker. You won't have to spend years in training before you can become one. All you need to work as a full-time nursing aide is to get your name entered into the state's Nurse Aide Registry and get an NA certification. If you've never been certified before, then you can only gain entry into the WI-NAR is by challenging the NNAAP exam.
The NNAAP exam is divided into two parts: a written/oral exam and a skills evaluation test. Candidates have two hours to answer all 70 multiple-choice questions of the written/oral exam and 30 minutes to perform all the required nursing procedures. Candidates will only be required to demonstrate 5 randomly selected nursing procedures in front of a CNA Evaluator. If a candidate passes both tests, then his or her name will be entered into the Nurse Aide Registry.
All candidates who wish to take the NNAAP exam must successfully complete an approved training course. The most common way of qualifying for the NNAAP exam is by completing a CNA training course. These courses offer a minimum of 120 hours of training. The hours are divided into theory and practical training. Most programs offered in Wisconsin can be completed within 4 to 24 weeks.
A nursing aide who is certified in another state may transfer his or her certification and work in Wisconsin without any need for further training or testing. Applicants must have completed at least 120 hours of training which 32 of those hours are allocated for clinical training. Upon applying they must have a clean record and an active certification.  Applicants will still be required to get fingerprinted and undergo the national criminal background checks. They must not have any records of patient abuse, neglect, misappropriation of patients' properties, or be listed on the Abuse Registry.
This city is in Grant County. It has a total area of approximately 1.5 square miles, where all of it is land. It has a total population of over 2,387 people during the last census; their population density is 1,610.5/sq mile.
Examples of health care centers and providers that you can find in the area include High Point Family Medicine LLC, Country View Duplex, Boscobel Area Health Care, Good Samaritan Society – Fennimore, Birkett Chiropractic, Truitt Chiropractic, Corner Stone Foundation, Feeling Better Every Day, and Sunset Fields. photo attribution: ufv