The CNA schools in Fayetteville that are shown on this page are all the state of North Carolina approved, training instruction that is available at this time. For more information about certification requirements, class schedules, or tuition costs, please call the number provided.
Fayetteville Technical Community College
2201 Hull Road, Fayetteville, NC 28303
(910) 678-8423
http://www.faytechcc.edu/
(Multiple classes are being offered)
A nursing assistant is a member of the healthcare team that can be found working in nursing homes and other healthcare areas. The nursing assistant helps the patient by performing tasks that are delegated to them by registered nurse and other members of the healthcare team.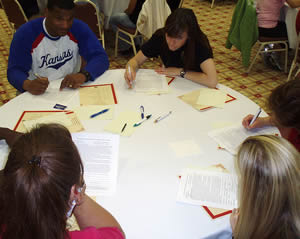 Like any other profession, the tasks that are nursing assistant are limited. They mainly do routine and simple nursing procedures such as assisting the patients with their day to day living activities like personal care and ambulating. They also help the patients by promoting their safety through the use of side rails for their beds, and doing infection control.
One of the main pros of becoming a nursing assistant is that the process to become one is fast and easy. There are several different eligibility routes to get into the N.C. NA I Registry, but most of them involves in taking the National Nurse Aide Assessment Program exams. The exams are designed to test the nursing assistant candidates on their knowledge and skills on how to take care of the patients/residents.
The examinations for this state are handled by Pearson VUE, one of the nation's leading testing companies. The exams will have a written/oral examination and a skills demonstration on randomly selected nursing procedures. For those who need special help or consideration in taking the exams because of certain difficulties, they can request for additional considerations upon applying for the exams. All candidates must be able to pass all the tests within 2 years from completing their training or applying for the NNAAP examination.
After each portion of the exam, the evaluator will fax the candidate's test in order to be scored. If there are no problems with the scoring, the results of the test will be sent back, which will tell if the candidate has passed or not. If there are certain problems, the tests will be mailed overnight for scoring. The score report will be mailed to the candidate's mailing address within 5 to 7 days.
This city is the county seat of Cumberland County. It is best known as the home of Fort Braggs. According to the census of 2010, their total population at that time was 200,564. This city is considered as the 6th largest municipality in the state. It has a total area of approximately 60.0 sq miles, and a population density of 2,059.2/sq mile. Earliest settlers in the area could be dated back to 1762. It was named after  General La Fayette after the Revolutionary War.
Health care centers that you can find in the area include Village Family Care Center PA, Rapha Primary Care Center, Assessment Counselling & Consulting, Buckhead Express Clinic PC, Physicians Urgent Care, Northside Urgent Care, Haymount Urgent Care, Angels Urgent Care, Highsmith-Rainey Express Care, and Fayetteville Ambulatory Surgery Center. photo attribution: create-learning