The facilities found in Excelsior Spring, Missouri that are providing nurse aide training are all shown to you in the list below. For more details about their course curriculum and school requirements feel free to call the number provided.
Excelsior Springs Area Career Center
614 Tiger Drive, Excelsior Spring, Mo 64024
816 630-9240
http://www.essd40.com/
Excelsior Springs Job Corp
701 St Louis Ave, Excelsior Spring, Mo 64024
816 630-5501
http://excelsiorsprings.jobcorps.gov/about.aspx
If you want to work as a nursing assistant, you must get your name on the state's Nurse Aide Registry. This can be done by completing a state-certified nursing assistant course and then passing both the written and the skills exams of the license exams. For those who are already working in a license long-term care facility, they will need to do this within 4 months from the start of their work.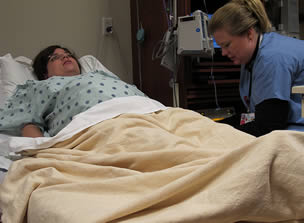 The state also allows some qualified individuals to challenge the competency exam without going through a training course. Applicants will need to submit a letter of approval from the office of the Missouri Department of Health and Senior Services and will only be allowed one opportunity to pass. If they fail they must take a training program to continue.
Another way of getting on the Registry if you are certified in another state is by applying for reciprocity. When applying for Interstate Endorsement, you must comply with its own set of requirements. This option is only available to those who are already a CNA that is registered to a different state's Registry. Those who are planning to apply must have worked for at least 8 hours within 2 years and must still have an active license/certification.
CNA certification is also not permanent. To renew a license, the holder must have worked for at least 8 hours as a paid nursing assistant within the past 24 months. If you have worked during that time and the Registry has failed to update the individual's status, that individual must then send proof of his employment so that his status may be prevented from becoming inactive.
This city is a part of both Clay and Ray counties. As of the 2010 census their total population has reached up to 11,084 people. You can find this city about 30 miles northeast of central Kansas City. It has a total area of 9.8 square miles and a population density of 1,125.8/sq mile. The city was first discovered back in the 1880s by a farmer named Travis Mellon.
Examples of health care centers and providers that you can find in the area include Take Care Clinic at select Walgreens, Bartlett Family Healthcare PC, Excelsior Springs Hospital, Buzard Robert L MD Ph.D., Family Wealthcare Center, Medical Arts Center, DR Samang O Kim DO, and Lasalle James R Do. photo attribution: timefornurses