The programs available that teach one to work as a certified nurse aide in Emporia, Virginia are listed on this directory. These classes are open for enrollment and meet the mandatory number of hourly instruction requirements.  For more information about the training, call the phone number for one of the schools listed on this page.
Pioneer Career Institute
420 South Main Street
Emporia, VA 23847
(434) 336-1383
Greensville County High School
403 HARDING STREET
Emporia, VA 23847
(434) 634-2195
(Multiple classes are available)
CNAs can only work in Virginia if they have a nurse aide certification that is issued by the state's Board of Nursing.  The only way that you can get a certification is by taking the National Nurse Aide Assessment Program examination or NNAAP exam. Before you can take the exam, you need to establish your eligibility to apply by completing a state-approved training program.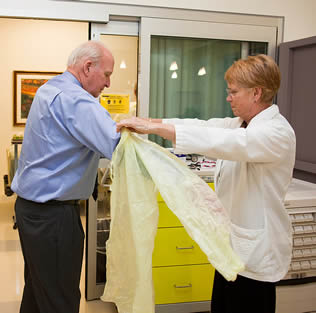 The best way to become qualified to apply is by attending a state-certified CNA program. These programs are offered by hospitals, nursing homes, community colleges, high schools, government organizations, and even certain websites. Nurse aide training consists of at least 75 hours of lectures and supervised clinical practice. Depending on the program you choose, it can take you 2 to 6 months to complete your training.
Once you complete your training, your instructor will provide you with the necessary application packet to apply for the NNAAP exam. The packet will contain the necessary information that you'll need to complete your application like what to send and where to send the application forms.
The NNAAP exam is divided into two parts – a written/oral test and a skills evaluation. Both these tests are taken on the same day at a Regional Testing Center. Candidates must pass both tests to get a certification. If a candidate fails, he can immediately reapply and reschedule for another exam. Candidates can take the exam as many times as needed. However, they must pass both tests within 2 years of their first exam.
As soon as you receive your certification, you will be allowed to work in a state-approved nursing facility. Working as a nurse aide means that you will be under the watchful eyes of licensed nurses. Nurse aides provide patients with basic nursing care and help them with their daily activities such as bathing, dressing, toileting, eating, cleaning their immediate surroundings, exercising, ambulating, and many more.
If you want to have the responsibility of giving certain medications to patients, we suggest that you enroll in a CMA training program. After completing their training course, your next step is to take their certification exam. Unlike the NNAAP exam, their certification exam consists only of a multiple-choice knowledge test. Follow this like for more information about their certification exam: http://www.dhp.virginia.gov/Forms/nursing/MedAide/Bulletin.pdf
This is a independent city that is located within Greensville County. It is also the county seat of Greensville. According to the latest census, their total population had reached up to a total of 5,927 people. It has a total area of 7.0 sq miles and a population density of 821.9/sq mile. This city was chartered in 1967 and was named after the town of Emporia, Kansas.
Examples of health care centers that you can find in the area include Walker Thomas A MD, Starkewood Christian Counseling Services, Prince Squire Medical Center PC, A Preferred Womans Health Center, Emporia Medical Associates PC, Commonwealth Behavioral Healthcare LLC, and many more. photo attribution: codnewsroom