The nurse aide training programs that are available in by schools Elkins, West Virginia are all found on this page. Classes will prepare students to properly care for patients, teach basic nursing fundamentals, and offer exam preparation.
Elkins Rehabilitation and Care Center
1175 Beverly Pike,
Elkins, WV 26241
(304) 636-1391
Passage of the Nursing Home Reform Act now requires all long-term nurse aides to undergo proper training and certification before working as a full-time nurse aide in any healthcare facility in West Virginia. The process for becoming a nurse aide was established by the OBRA to ensure that all aspiring nurse aides be competent and qualified.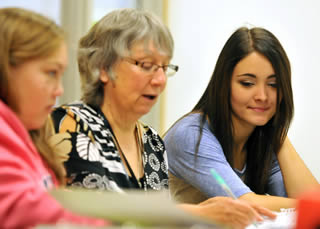 This state requires its CNAs to have a certification when they work as a nursing aide. To get one, they must complete are training program, pass the background checks conducted by the federal and the state, and pass the competency exams. The licenses of nursing assistants in this state expire every two years and must be renewed to continue work.
The minimum hours required for a Nurse Aide Training and Competency Evaluation Program (NATCEP) to be approved by the state is 120 hours. These hours are divided into 65 hours of classroom instructions and 55 hours of supervised clinical practice. A NATCEP must last for at least 4 weeks. Aspiring nurse aide students must only enroll in a program that's approved by the state in order to qualify for the certification exam.
Nursing students who wish to work as nurse aides can also qualify for the certification exam. They must have successfully completed the Fundamentals of Nursing with at least a "C" average. They must also have completed a minimum of 32 hours of clinical experience while in a certified nursing facility.
The certification exam is properly known as the National Nurse Aide Assessment Program Examination or NNAAP exam. It consists of a written/oral knowledge test and a skills evaluation exam. Candidates must pass both tests to get into the Nurse Aide Registry and get certified.
A nurse aide from another state who was able to maintain a clean record and a valid certification can work in West Virginia by applying for reciprocity. Interested applicants must contact the State Nurse Aide program for the complete requirements and processing. The complete lists can be accessible at http://siq.ar.org/PDF/StateNAR.pdf.
West Virginia Nurse Aides must renew their certifications every 2 years. During that time the nurse aide must be able to provide nursing services, for compensation, to qualify for renewal. If a nurse aide is unable to work during the 2 years, then his or her certification will be considered lapsed. The holder can complete the refresher course program and take the State Exam to reactivate his or her certification.
This city is the county seat of Randolph County. Incorporated in 1890, it was named after Stephen Benton Elkins, who was a Senator from this state. As of the 2010 census, their total population had reached up to a total of 7,094 people with a population density of 2,216.9/sq mile. The total area of this city is estimated to be about 3.2 square miles, where all of it is land.
Examples of health care providers and centers that are available in this city include Elkins Express Care, Appalachian Community Health, Davis Memorial Hospital, Direct Care of Elkins, ResCare Homecare, San Pablo Medical Clinic, Appalachian Community Health, and many more. photo attribution: ufv