Students looking for state approved nursing assistant training in Elizabeth City, North Carolina can find the available courses listed here. These programs are currently open for enrollment and meet the qualifications of the NC Dept. of Health.
College of the Albemarle
1208 N Road St, Elizabeth City, NC 27909-3336
(252) 335-0821
http://www.albemarle.edu/
Nursing assistants are individuals who help nurses take care of the patients by providing nursing procedures that are delegated by the nurses. These procedures are basic and mainly routine such as taking vital signs, assisting with the patients' activities of daily living, and sometimes they are allowed to help with emergency procedures.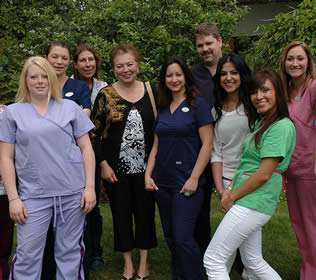 According to the Nursing Home Reform Act, which is now part of the OBRA of '87, all individuals seeking to be nursing assistants must undergo the proper training and pass the competency exam. The National Nurse Aide Assessment Program was created by the National Council of State Boards of Nursing Inc. to evaluate the individual's knowledge, skills, and abilities to function as a nursing assistant. It is made up of both a written (oral) exam and a skills evaluation. Those seeking to get into the Nurse Aide I Registry must pass both parts of the exam.
One of the best ways to be eligible to take the exam is to complete a N. C. -approved training course. By completing this course, not only will you be allowed to apply but you will also be allowed to work as a nursing assistant for a maximum of 4 months. If during that time you are hired by an employer, all charges for the exams will be paid for by your employer.
CNA certificates are renewed every 24 months. The date of renewal or expiration falls on the date that you passed the exam or gain entry into the Nurse Aide I Registry. Notifications and the necessary forms are sent out by the registry at least 3 months before the date of your certificate's expiration. To avoid any problems with your renewal, it is your responsibility to keep your record in the registry updated.
It is important to inform the registry if you changed your name or address. You can report these changes by:
•    Completing the Name/Address Change Reporting form (http://www.ncdhhs.gov/dhsr/hcpr/pdf/nar_coaf.pdf).
•    Call the registry – which is only for mainly address changes
•    Writing to the registry at:
N.C. Department of Health and Human Services
Division of Health Services Regulation
2709 Mail Service Center
Raleigh, North Carolina 27699-2709
Phone: (919) 855-3969
Fax: (919) 733-9764
This city is the county seat of Pasquotnk County. It is also part of the Elizabeth City Micropolitan Statistical Area. Elizabeth City has a total area of approximately 9.6 sq miles. According to the 2010 census, their total population was around 18,683 people. It has a population density of 2,182.3/sq mile. Major roads that are serving this city include US 17 US Route 158 and North Carolina 344.
Health care centers that you can find in the area include First Choice Urgent Care, Community Care Clinic-Albemarle Hospital Foundation, Allen Roger D Ph.D. Office, Albermarle Regional Health Service, Christian Medical Center, Chesapeake Regional Medical Ce, Pride In Carolina, Howard J Randall Doctor of Osteopathi, and many more. photo attribution: ufv