Those who desire to work as a nursing assistant can find the available programs in Elgin, North Dakota that are open for enrollment listed in detail on this page. all course shown here have met the standards set by the state registry. If you know of other listings that are being offered, please call us and we will add them to the page.
Jacobson Memorial Hospital Care Center
601 East Street North,
Elgin, ND 58533
(701) 584-2792
http://www.jacobsonhospital.org/
A nurse aide can be defined as an individual who is providing nursing or any nursing-related care to individuals who are in a nursing facility or other healthcare facilities. These tasks that nurse aides or nursing aides are allowed to do are delegated by nurses and are often simple and routine. For an individual to be completely defined as a nurse aide, he/she must be paid for doing the care. Initially, a nurse aide can make around $20,000 in a year, while other much more experience nurse aides make about $31,000.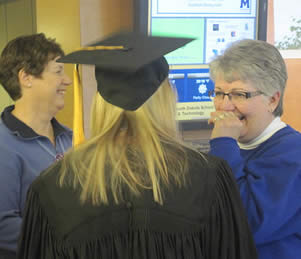 In order to fully work as a nurse aide, you must be on the state's Nurse Aide Registry. The registry is a listing of all the individuals who were able to complete the approved competency exam and have given the registry the necessary documents and information. You must also be able to pass a routine background check that you will undergo when applying for the state exams.
The competency exam was designed to test the nurse aide candidate's competency in knowledge and skills to be a nurse aide. To help with this, individuals are required to enroll in a state-certified training program. When they enroll, they will be taught and trained in a variety of subject like infection control, mental health, communication techniques, emergency procedures, rehabilitation, safety procedures, the patient's rights, and how to assist them in their daily activities.
During their time in the program, they will be supervised by a qualified instructor. These instructors are registered nurses who have at least 2 years of nursing experience, of which one of those years were spent in a long-term care facility. These instructors are also required to have completed a course in teaching adults or have at least background experiences in training them. Other professions that are related to the field of health can also be supplemental instructors.
Once you complete a program, you can then try to apply for and pass the license examinations. The exams are composed of an oral and a written portion. You are required to pass both parts in order to get your certification.
Another option of being able to gain entry into a state's NAR is by applying for reciprocity. Reciprocity is the process by which a certified nurse aide is allowed to transfer and work in a different state. One of the most important requirements when applying for reciprocity is having an active status on the registry or a valid license. Individuals with records of abuse, neglect, or theft may not be allowed to work in a nursing facility again.
Once into the registry, you will be allowed to work as a nurse aide for 24 consecutive months. To keep your record on the registry active, you must be able to get work as a paid nurse aide for at least 8 hours by a licensed healthcare facility. In North Dakota, the initial expiration date falls on the same date that your name was entered on the Registry.
Elgin is a part of Grant County. According to the census of 2010, their total population was around 642 people. This city has a population density of 610.8/sq mile. The total area of the city is estimated to be around 1.05 sq miles, where all of it is land.
Examples of health care providers and centers that are being offered in the area include Take Care Clinic at select Walgreens, Jacobson Memorial Hospital Clinics, Elgin Community Clinic, Ketterling Marcia R, and a few more. photo attribution: mattJhsn