Those who are interested in joining a nursing assistant training program that is offered in Edenton, North Carolina can find them listed here. Courses are approved by the North Carolina Department of Health and Services and will allow those who finish them successfully the chance to take the license tests upon completion.
College of the Albemarle/Chowan Campus
800 North Oakum Street
Edenton, NC 27932
(252) 482-7900
http://www.albemarle.edu/
To work as a nursing assistant in a North Carolina nursing facility, you must have CNA license. The only way that you can get a license is to get your name on the Nurse Aide I Registry. Those that are on the Registry are the ones who were able to meet the OBRA regulations.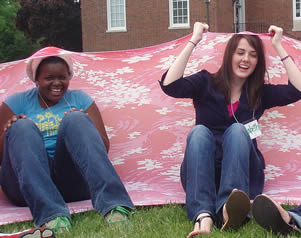 One way of becoming a nursing assistant is to challenge the license exams that are being offered by Pearson VUE. The exams consist of a written exam and a practical demonstration of the nursing skills. The written exams can also be replaced by an oral exam if the applicant requests it. To gain entry into the Registry, the applicant must be able to pass all the tests.
The results of the exams are released approximately 10 minutes after your tests are faxed by the nurse aide evaluator for scoring. If you pass, your name will automatically be entered on the Registry. Your status there will remain active for up to 24 months. An active status is necessary to maintain work or eligible to work as a nursing assistant. Before an employer hires you, he is required to check your status on the Registry. This can be done by:
•    Going online and looking it up at: https://www.ncnar.org/verify_listings1.jsp#verify.
•    Calling the 24-hour Voice Response System at (919) 715-0562.
•    Calling a registry staff at (919) 855-3969. (Please call on weekdays during office hours- from 8:00 a.m. to 12:00 noon, and again from 1:00 p.m. to 3:00 p.m.)
To renew your license, you must be able to show proof that you were able to work for at least 8 hours under a registered nurse in a nursing home. For you work to be considered qualified, you must have been paid while doing nursing tasks. Take note that renewing your CNA license is free of charge.
To avoid any problems when renewing your license, you are required to notify the Registry if ever you changed your name or mailing address. This can be done by filling out the Name/Address Change Reporting Form, which can be downloaded from http://www.ncdhhs.gov/dhsr/hcpr/pdf/nar_coaf.pdf; calling the Registry at (919) 855-3969; or writing to them at:
N.C. Nurse Aide I Registry
2709 Mail Service Center
Raleigh, North Carolina 27699-2709
Fax: (919) 733-9764
This town is the county seat of Chowan County. You can find this town in the state's Inner Banks region. According to the latest census, their total population was at 4,966 residents. Edenton has a total area of approximately 5.2 sq miles. Its population density is 1,076.3/sq mile. This town is well known for its tourist's spots and inns.
Examples of health care centers that you can find in the area include Gambro Health Care, Personal-Touch Home Health Care Inc., Chowan Medical Center PA, Visions In View, Behavioral Health Center, Emergency Aid, Health Services Personnel, Albemarle Mental Health Center, and Davis Robert A MD – Ecu Physicians Department of Surgery. photo attribution: create-learning