By signing up for nursing assistant classes in Eau Claire, Wisconsin you will learn the skills necessary for passing the state examination for licensing.  Courses listed here are all approved by the state of Wisconsin. Call the phone numbers on this page for details about signing up for a college or health care facility program, to get classroom schedules, or check the cost of school tuition.
CHIPPEWA VALLEY TECHNICAL COLLEGE
620 W CLAIREMONT AVE
EAU CLAIRE, WI 54701-
(715) 833-6421
www.cvtc.edu/
GRACE LUTHERAN FOUNDATION
PO BOX 287
EAU CLAIRE, WI 54702-
(715) 832-3003
www.graceluthfound.com/index.cfm/event/cnaprogram/
If you plan to become a nurse aide in Wisconsin, then you better know what the requirements to become one are. Learning these requirements will make the process easier and a lot quicker. Among the different requirements, here are the most important: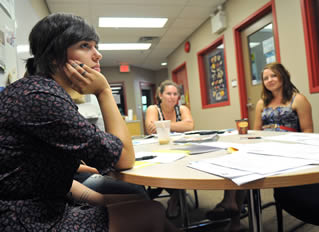 Criminal Background Checks
Before you start daydreaming about a career as a nurse aide, you must make sure that you'll be able to pass the criminal background checks first. These checks are done with fingerprinting at both federal and state levels. Having a record like abuse or theft may hurt your chances of getting certified. Passing the criminal background checks are requirements to be accepted into an approved course.
Nurse Aide Training Program
Enrolling in a state-approved training program is the first official step in the nurse aide certification process. It is important that you learn the proper way of how to take care of the patients. It is the goal of the Nursing Home Reform Act that the patients receive only quality care from their healthcare providers.
CNA training in Wisconsin consists of 120 hours. Out of all those hours, 32 of them must be allocated for supervised clinical practice. Depending on the program you choose, it can take you around 2 to 6 months to complete your training. During the clinical portion of the training all students are supervised by a CNA instructor who completed an approved Train-the-Trainer program (http://www.dhs.wisconsin.gov/caregiver/pdffiles/trainTheTrainerProg.pdf).
The National Nurse Aide Assessment Program Exam (NNAAP exam)
Taking this exam is the final step in becoming a nurse aide. This exam consists of a 70 item written (oral) exam and a practical skills test. It is conducted with the help of Pearson VUE at an approved testing center. Candidates who pass both tests within 3 attempts or within a year after completing their training will be added to the Nurse Aide Registry.
Instructors usually give out the application forms at the end of the training. If you failed to receive one, you can download and print a copy by visiting www.pearsonvue.com or www.dhs.wisconsin.gov. Make sure to include all requirements, especially the payment, before you submit it to:
American Red Cross
WI NNAAP
1806 N. 6h St.
Harrisburg, PA 17120
The Nurse Aide Registry
The Wisconsin Nurse Aide Registry is run with the help of Pearson VUE. It contains all the names of individuals who passed and met the federal and state's training and testing requirements. Employers are required to check each applicant's name if it is on the NAR before hiring him/her. If you wish to check your status on the Registry, you may do so by going to: http://www.asisvcs.com/services/registry/search_generic.asp?CPCat=0750NURSE
This city is the county seat of Eau Claire County. It is situated in the west-central part of the state. Eau Claire is also considered as the 9th largest city in the state. It is also included in the Eau Claire, Wisconsin Metropolitan Statistical Area. According to the census of 2010, their total population was around 65,883 people. Its total area is approximately 32.4 sq miles, and has a population density of 2,033.4/sq mile.
Health care centers that you can find in the area include Catholic Charities, Healing Choices Massage & Tai Chi Center, Michigan Family Dental, Southside Medical Clinic, Regis Court Dental Associates, Marriage & Family Health Services Ltd, Chippewa Valley Orthopedics & Sports Medicine, and Eau Claire Optical. photo attribution: ufv