Classes in Dublin, Virginia that teach one to become a certified nursing assistant are located below. Course shown are open for enrollment at this time. If you have any questions about the joining their instruction, please call the number for the schools provided below.
New River Community College
Route 100,
Dublin, VA 24084
(540) 674-3600
Pulaski County High School
5414 Cougar Trail Rd.
Dublin, VA 24084
(540) 643-0747
A CNA certification is a major requirement to work as a nurse aide in Virginia. The only way you can truly get a certification is by taking the NNAAP exam. This exam was designed to test aspiring nurse aide candidates in their knowledge and skills to be competent nurse aides. Aspirants must pass both the written (or oral) test and the skills evaluation exam to get a certification. There are many advantages in becoming a nurse aide. One of them is that you get the chance to choose the route to take to become one.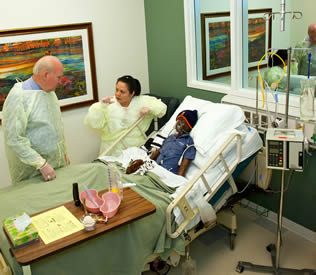 Certification as a New Nurse Aide
This route is the most common among all the routes. This route involves the successful completion of a state-certified program to become qualified to apply for the NNAAP exam. CNA training in this state consists of a minimum of 75 hours of lectures and supervised clinical practice. Students are taught important concepts like infection control, basic nursing care, proper body mechanics, nutrition, and other topics.
This is also the route that must be taken for those who have already taken the NNAAP exam and failed. Unlike other states, there is no limit on how many times you can reapply and retake the exam you failed. The only requirement is that you must pass within 2 years from the first time you took the exam.
Certification as a Nursing Student or Graduate
Nursing students receive similar training to student nurse aides. That is why they are allowed to apply immediately for the NNAAP exam without any need for further training. To qualify, a nursing student must spend at least 40 hours providing nursing care when they were still enrolled in a nursing school program.
Certifications as a worker with an expired certification
Nursing assistant certifications are only valid for 2 years. During that time, holders must meet the state's required working hours as a paid nursing aide to become qualified for renewal. No nurse aide is allowed to continue working with an expired certification. Once the certification has expired, it can no longer be renewed. However, it can still be reactivated by taking the certification evaluation exam within a year after its expiration.
Certification through Endorsement
CNAs from other states are welcome to transfer and work in Virginia. A certified nurse aide who meets all the requirements for endorsement will no longer be required to take any tests to start working. To qualify, applicants must have a valid certification and a clean record. They must not have any records of patient abuse, neglect, or theft of their property.
This town is a part of Pulaski County. It is also included in the Blacksburg–Christiansburg–Radford Metropolitan Statistical Area.  According to the census of 2010, their total population had reached up to a total of 2,534 people. It has a total area of 1.4 sq miles and has a population density of 1,607.1/sq mile.
Health care providers that are located within the city include Grover Harish MD, Skewes Matt, Vistar Eye Center, Brandau Scott DR, Pulaski Internal Medicine PC, Oleksuk Lynda L DR, Professional Door Inc., and many more. photo attribution: codnewsroom