You can locate schools in Doniphan, Missouri that offer nurse aide classes listed here. By enrolling in these programs you will gain knowledge and experience to help pass the license exams and by proficient on the job. Call the facility to find out if they are open for enrollment at this time.
Current River Area Vocational Tech
303 Spring Street, Doniphan, MO 63935
573 996-2915
http://crlink.tec.mo.us/
Those who want to work as a nurse aide in care facilities throughout the state of Missouri will need to become licensed. This entails going through a training course that teaches the basic skills used while on the job under the general guidance of a registered nurse. Programs must be approved by the state and verified to offer the proper curriculum and instructional hours. At this time classes need to offer 75 hours of classroom instruction and 100 hours of clinical practice using common health care tasks.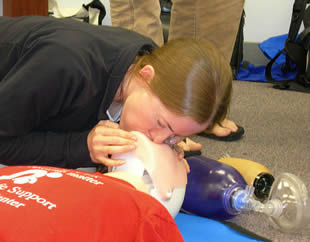 After your course is completed your facility can help direct you to scheduling a date to take the certification exams. The exams consist of two parts, a written and a skills test. Both parts must be completed to pass and become certified and eligible to work long-term and listed with an active status in the state registry. Having an active status on the nursing assistant registry means that you were able to comply and pass the training and testing requirements of both the Federal and State regulations. Only those whose names have an active status are allowed to work as a nursing aide in a long-term care facility.
Like many states, the statuses will change. An active status will be changed into an inactive one if you were not able to work for at least one day for the last 24 consecutive months. Those who have an inactive status will no longer be eligible to work in a LTC facility as a nursing aide until the certification has been reactivated. To do this, you must challenge the examinations again.
Your certification will be considered expired if you were unable to work as a paid nursing aide for 5 consecutive years. Once a certification/license has expired, it may no longer be renewed. If you want to work again as a nursing aide, then you will need to undergo retraining and retake the license exams afterwards.
Doniphan is that county seat of Ripley County. At the 2000 census, they estimated the population of the area to be at 1,932. This city has a total area of approximately 1.4 sq miles, where all of it is land. Its population density is 1,412.5/sq miles. This city is situated at the heart of the Current River. It is considered as the main attraction of the city.
Health care providers that you can find in the area include Ripley County – Public Health Center (573) 996-2181, Samuel Medical Clinic (573) 996-7148, Ward Gary DO (573) 996-7148, Advanced Healthcare Home Health Agency (573) 351-1413, Musser Richard Jr DO (573) 996-7148. photo attribution: niels_olson