You can find listed on this page the certified nursing assistant training courses that are open for enrollment in Decatur, Alabama. By speaking with a school representative you can learn the current enrollment requirements, class schedules, and steps to receive certification.
Calhoun Community College – Nursing Department
P.O. Box 2216,
Decatur, AL 35609
(256) 306-2794
Website: www.calhoun.edu/Health/ADN.htm
The field of health care has always been a stable and growing industry. As the number of elderly in the population increases, so do the jobs and job opportunities. You can train to become a nursing assistant in Decatur, AL if you wish to enter the field without spending that much time and effort.
What is a Nursing Assistant?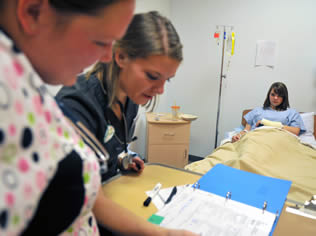 Those in this profession must have received proper training and completed the state competency exam. Nursing assistants are entry-level professionals who work under the direct supervision of registered nurses. They assist in providing nursing and related care to patients who are in various medical facilities and health care settings.
How do you become one?
First of all, you need to enroll in a CNA course, that's approved by the Alabama Department of Health. This will ensure that you will receive proper education and training, as well as become qualified to apply for the competency exam. Approved courses will help you prepare for the various situations that you might encounter once you become a full-time nursing assistant.
CNA training always consists of theory and hands-on practical training. All programs in the state are required to offer no less than 120 hours of instructions to their students. It can take you about 3 to 4 months to complete your training depending on the course you choose. As a student, you will learn important concepts and skills such as infection control, medical terminologies, basic nursing skills, personal care, roles and responsibilities, patients' rights and independence, communication skills, and many more.
After completing your training you will be allowed to apply for the competency exam. If your instructor does not provide you with the application forms, you may visit www.pearsonvue.com and download, and print a copy from there. When completing the application forms, you need to make sure that everything is complete and accurate. If you have trouble completing the application or have any questions, please call (877) 899-0939 to talk to a NACES Customer Service Representative.
All application requirements must be sent in one envelope to:
NACES Plus Foundation, Inc.
Alabama NNAAP
8501 North Mopac Expressway, Suite 400
Austin, Texas 78759
The nursing assistant competency exams are divided into two parts, which consist of a multiple-choice written exam and a manual skills demonstration. Candidates will have 2 hours to answer all the questions on the written test and 25 minutes to perform 5 randomly selected nursing procedures in front of an evaluator. Candidates must pass both tests within 24 months after completing their training to get into the state's Nurse Aide Registry.
Once your name is on the registry, you will be allowed to work as a certified nursing assistant for a maximum of 24 months. If you wish to continue working as one, the following conditions must be met:
1.    You must work for monetary compensation.
2.    Work as a certified nursing assistant, performing direct patient care.
3.    During your work, you must be under the supervision of a registered nurse or a licensed practical nurse.
4.    You must work for at least 8 hours every 24 months in a nursing home, hospital, home health agency, or mental health facility.
Ways to meet the requirements of a CNA
If you haven't thought where you want to train and become a nursing assistant, then we suggest the city of Decatur. This city is located in both Morgan and Limestone counties. It is the largest city and currently the county seat of Morgan Country. It has a total area of 64.9 square miles and a total population of over 55,996 people, as of the census of 2012.
Two of its biggest employers are the Decatur General Hospital and the Parkway Medical Center.
There are two of the best places where you can comply with the requirements and maintain your status as a certified nursing assistant.  If you wish to work elsewhere, there are also several nursing homes, that you can find within the city limits, such as the AseraCare Hospice; the Alabama Baptist Children's Homes; the Robin's Nest Homes; and the River City Care & Rehab Centers. photo attribution: ufv