The classes in Danville, Virginia that are open for enrollment for nursing assistants are shown on this page. Contact one of the training schools from the list below for details about enrolling  in a program in the city of Danville, Virginia.
Danville Community College
1008 South Main St.
Danville, VA 24541
(434) 797-8412
George Washington High School Dual Enrollment with Danville Community College
701 Broad Street
Danville, VA 24541
(434) 799-6410
Medical Solutions
1055 PINEY FOREST ROAD
Danville, VA 24540
(434) 709-7808
If you're looking for a way to start a career in the field of medicine, then you should think about becoming a nurse aide. Nurse aide is an entry-level professional who helps nurses provide nursing care to clients who are in different health care settings. What makes this profession different? Well, for one thing you don't have to spend years learning how to become one. As soon as you complete a state-approved CNA program, which can take around 2-6 months; and pass the NNAAP exam, then you'll be allowed to start working immediately.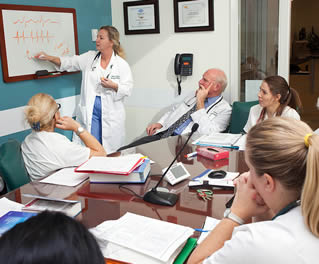 Choosing the right training program can be a bit confusing for some, especially since the number of training programs being offered had increased dramatically over the years. Just so you're safe, you need to choose a program that's approved by the Board of Nursing. This will ensure that your training will meet the federal and state's standards, and that you'll be allowed to apply for the NNAAP exam afterwards.
The NNAAP exam consists of a 70 item knowledge test and a skills evaluation exam. Both tests are taken on the same day at a Regional Testing Center. Candidates will have 2 hours to answer all the questions on the knowledge test and 30 minutes to perform all the required nursing skills. If they pass all both tests, then they'll receive a certificate from the Board of Nursing, which is a requirement to work as a nurse aide.
In case you fail at least one exam, you are allowed to reschedule and retake the test(s) that you failed. Of course, when you reapply you'll also need to pay for the testing fee for the test(s) that you failed. Unlike other states, you can retake the NNAAP exam as many times as needed; provided that you pass within 2 years after taking the exam for the first time. You'll be required to undergo retraining if you fail to pass within that time.
To help you gain more understanding about the NNAAP exam, please visit www.dhp.viginia.gov. You can also find other healthcare-related careers such as:
–    Nursing
–    Licensed Practical Nursing
–    Medication Aide
–    Advanced Nurse Aide
–    Massage Therapist
One of the best certifications that you can pair with a nurse aide certificate is a CMA certification. Medication aide training is also quick. As soon as you complete their required training curriculum, all you have to do next is to take their certification exam. As a CNA/CMA you'll be allowed to give certain medications to a client. CMAs still work under the supervision of a licensed nurse.
This is an independent city that is bounded by both Pittsylvania County and Caswell County. It was the last capital of the Confederate States of America.  It belongs to the Danville, Virginia Metropolitan Statistical Area.  According to the 2010 census, their total population was around 43,055 people. It has a total area of about 43.9 sq miles, and has a population density of 998.9/sq mile.
Examples of health care centers that you can find in the area include Associates In Mental Health, Free Clinic of Danville, Piedmont Primecare East, Commonwealth Home Health Care, Health Care for Women, Centra Health, Health Referral Services of Danville Regional Medical Center, Fresenius Medical Services Danville, and many more. photo attribution: codnewsroom