Enrolling in a  certified nurse aide training program in Covington, Virginia is the first step to becoming eligible to work. Courses found on this page are all open as of the moment and recognized with state approval. For more information about enrolling in health care vocational instruction within the city of Covington, please call the number for the training center listed below.
Jackson River Vocational Center
105 East Country Club Lane
Covington, Virginia 24426
(540) 862-1308
(Also offer nurse's aide training programs)
Becoming a nurse aide in Virginia can be one of the best career choices that you can make. Nurse aides in this state are paid well and are in constant need by different health care facilities. If you do not know how to become one, then just continue reading and find out how easy it is.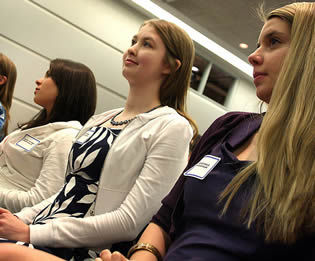 Getting the Proper Training
It is important that you know how to take care of the patients before you actually handle one. The best way for you to get the training that you need is to enroll in a state-certified CNA program that is approved by the Board of Nursing. Approved programs offer 75 hours of theory and clinical practice. If you enroll in a facility-based program you will have the chance to work as a nurse aide for 4 months even without a certification.
Examples where you can find a suitable program:
•    Hospitals
•    Nursing Homes
•    Rehabilitation Centers
•    Long-term Care Facilities
•    Assisted Living Centers
•    Community Colleges
•    Vocational Schools
•    Technical Colleges
•    Private Training Facilities
Applying for the NNAAP Exam
Completing an approved program will make you eligible to apply for the NNAAP exam. You can also apply for the exam if you are a nursing student or graduate, but you will need to get an Authorization to Test from the Board of Nursing before you can apply.
You can download the application form by following this link: http://www.asisvcs.com/publications/pdf/075301.pdf. The form will contain information on what you should do. It will also include the complete address of where you should submit the forms. Please remember to send your application along with the payment of $94. Payments must only be in the form of a money order or company check.
Taking the NNAAP Exam
On the day of your exam you must arrive at least 30 minutes before the start of the exam. Latecomers are not allowed to enter the testing area once an exam has begun. You will also need to bring a valid ID and a copy of your social security card for the pre-test check-in. Remember that all payments are not non-refundable.
The first part of the NNAAP exam is the written/oral test. Candidates will have a maximum of 120 hours to answer all 70 questions. The second part is the skills evaluation. They are given only 30 minutes to perform all 5 required nursing tasks in front of a nurse aide evaluator. If you pass both tests, then your name will be added to the NAR and you will receive a CNA certification.
This is an independent city and also the county seat of Alleghany County. It is one of the cities that are included in the Roanoke Regional Partnership. According to the census of 2010, their total population had reached up to 5,961 people. Covington has a total area of about 5.7 sq miles, where all of it is land. It has a population density of 1,111.3/sq mile.
Health care clinics that you can find in the area include Intrepid USA Home Health Services, (540) 965-7648, Alleghany Highlands Community (540) 965-2100, Healthcare of Virginia (540) 969-0322, Wvva Health Care Alliance, PC (540) 863-8736, and many more. photo attribution: codnewsroom