Those who want to enroll in classes to become certified as a nursing assistant in Covina, California can find the latest school offerings below. Programs show are state recognized and open for enrollment at this time. To find out more about enrolling in their training, please call one of the facilities on this page.
Holy Spirit Health Care Career Center
534 E. San Bernardino Rd
Covina, CA 91756
626) 331-3366
One of the best ways to start a career in the field of healthcare is to become a nursing aide. If you wish to become one then it is important that you should know what the requirements are. This should help you make things easier and a lot quicker.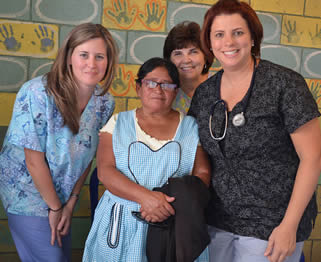 CNA Training Programs
Enrolling in a training program is the first step in becoming a nursing aide. It is important that you know how to properly take care of the patients before handling any of them. You can find programs throughout the California. They are being offered by different institutions and schools such as nursing homes, hospitals, long-term care facilities, vocational and technical schools, and government organizations.
Training programs in California offer a minimum of 150 hours of training. The hours are divided into 50 hours of lectures and 100 hours of clinical practice. Students will learn about different topics such as medical terminologies, human anatomy, vital signs, basic nursing procedures, personal care, assisting in bathing, feeding, dressing patients, as well as maintaining the patients catheters and other measuring vital signs such as blood pressure, pulse and temperature. When they are in the clinical setting, they will be under the supervision of a registered nurse. During this time they must not be asked to perform any procedure that was not discussed in the classroom.
National Nurse Aide Assessment Program
Once you have finished your school class you will want to find a location near you to take the certification exams. Frequently the testing is held in the same facility that you used for your training. You can contact the California Department of Public Health at (916) 327-2445 for more information about your eligibility and where to find testing locations near you.
The NNAAP exam is the final step in becoming a nursing aide. This exam consists of a written (oral) knowledge test and a clinical skills evaluation. If you pass both parts within 3 attempts and within 2 years after completing your training, you will get certified and be listed on the Nurse Aide Registry. Only nursing aides whose names are on the Registry are allowed to work in a state-approved nursing facility.
Applying for the NNAAP Exam
The following forms are needed to apply for the NNAAP exams:
•    CNA Initial Application Form: http://www.asisvcs.com/publications/pdf/070503.pdf
•    NNAAP Exam Application Form: http://www.asisvcs.com/publications/pdf/070508.pdf
The first form must be sent to the CDPH (address provided on the upper right corner of the form). Submitting the form will establish your eligibility to apply for the NNAAP exam. Once the CDPH approves your eligibility, you can then send the second set of forms to your local Regional Testing Center.
Maintaining CNA Certifications
Nurse aide certifications must be renewed every 2 years. If you fail to renew yours, you will lose your eligibility to work as a nursing aide. To be eligible for renewal, you must work for at least 8 hours and complete 48 hours of in-service training. A notice is sent to your address at least 4 months before your certification expires. You will need the following forms for the renewal process:
•    http://www.asisvcs.com/publications/pdf/070512.pdf
•    http://www.cdph.ca.gov/pubsforms/forms/CtrldForms/CDPH283a.pdf
Covina is a small city with only a total area of 7.0 square miles. It bordering roads include Interstate 210, Interstate 10, and the San Gabriel River Freeway. According to the latest census, the total population of the city is now over 47,796. Covina City is a totally different place and is not to be mixed up with West Covina.
Top employers in the medical area in Covina include Citrus Valley Medical Center, Magan Medical Clinic, and Pall Medical. Each of these employers have more that hundreds of employees working for them. Other health clinics in the area include Magan's Urgent Care Plus, Smart Clinic Urgent Care, and Citrus Valley Urgent Care Center. photo attribution: amslerpix