The nurse aide programs that have KDADS approval in Council Grove, Kansas are shown here. These are all of the available classes that you can enroll in as of the moment. For more information, please call the number below to get the latest details about joining.
Council Grove Healthcare Center
400 Sunset Drive, P.O.Box 319,
Council Grove, KS 66846
(620) 767-5172
www.councilgrovehealthcare.com/
To become a nursing aide, you must be able to complete a nursing aide training program. When you enroll in CNA classes, you will be spending your time in classrooms for lessons on the different concepts of the Fundamentals of Nursing and in the clinical area for your clinical duties. To ensure that you will be allowed to take the license exams after you graduate, you should only enroll in a program that is approved by the state. As a nursing aide student, you will learn different nursing concepts such as infection control, mental health and rehabilitation, the roles of a nurse aide and his responsibilities, as well as the different medical terms. You will also be taught on nursing procedures such as taking the vital signs, monitoring the patient's health, maintain his/her hygiene, and assist in daily activities such as ambulation, exercise, bathing, feeding, dressing, as well as perform emergency procedures when needed.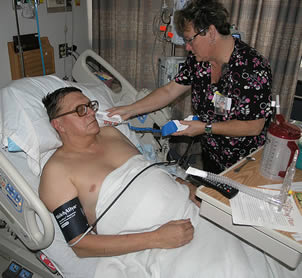 If you have completed the program and the required number of hours, you may apply for the license exams. During your application, you will need to provide the evidences of your training, experience, transcript of records and/or diploma. All that you will learn will then be tested when you go again the license exams since the exams will have two parts. The first part can either be a written exam or an oral one, while the second is the skills demonstration. You will need to pass all the tests to get your name entered in the Registry.
This city is the county seat of Morris County. The name of the city was taken from the agreement between the Europeans and the Osage Nation to let wagon trains to pass through their area. According to the census of 2010, their total population was around 2,182 people. They have a population density of 1,200/sq mile. The total area of Council Grove is approximately 1.8 sq miles, where all of it is land.
Examples of health care providers and centers that are in the city include Take Care Clinic at select Walgreens, Family Health Center of Morris County – Herrman Melissa MD, Alternative Health Care Center – Schmutz Jeremy DC, Mental Health Center of East Central Kansas, Council Grove Healthcare Center, Sorell Chiropractic Clinic PA, and many more. photo attribution: armymedicine