All the nursing assistant courses that are currently being offered in Columbus, Mississippi are listed for you below. To find out more about them, you can call them during working hours with the number provided.
Aurora Australis Lodge
310 Emerald Drive, Columbus, MS 39702
(662) 327-8021
http://aurorahealthrehab.com/
If you want to become a nursing assistant, then the first thing that you need to do is to enroll in a CNA course. Training that was done in a different state will not make you eligible to take the Mississippi license exams. The training course has to be approved by the state where you are planning to take the exams in.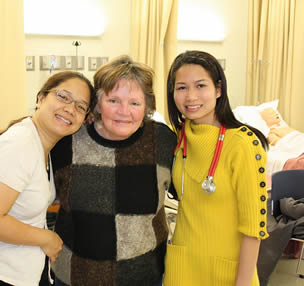 If you have completed your training in a different state, you can take the exams there and apply for reciprocity later on. Reciprocity is the process by which a nursing assistant that is currently registered to a different state's NAR is transferred and given authorization to work in a different state. When you apply, you must have a good relationship with your state and an active license. Having records of negligence and abuse will make you unable to work as a nursing assistant in Mississippi.
A nursing assistant whose license has been revoked because of neglect or abuse may still get it back. The individual will have to undergo retesting on all the tests of the NNAAP. The individual must pass all the tests for his renewal to be considered. When applying, the individual will have to give his certification/license number and the date the certification/license was revoked.
To learn more about scheduling a test date or for other questions call Pearson Vue at 1-888-204-6213. If you have specific questions regarding certification requirements in the state you can contact the Mississippi State Department of Health at 601-364-1100.
The City of Columbus, which is also known as "Possum Town", is located in Lowndes County. You can find this city just above Tombigbee River. It is also located around 146 miles northeast of Jackson, 63 miles south of Tupelo, and 92 miles north of Meridian. This city is also currently the county seat of Lowndes County. Since its founding in 1821, this city has now grown its population reaching up to 25,944 people. Columbus has a total area of 22.3 square miles, where only 0.9 square miles of it is water. Major highways that are serving this city are U.S. Highways 82 and 45.
Examples of the many healthcare facilities that are found in the city include Magnolia Outpatient Rehabilitation, Columbus Urology Group PLLC, North Ms Trauma Care System, Radiology Clinic, Nephrology Associates, Physician's Surgeon's Clinic, Fresenius Medical Care, Robinson Genette, East Columbus Family Practice, Columbus Children's Clinic, and Bluecutt Dental. photo attribution: leonardodasilva