The certified nursing assistant training offered by facilities found in Colby, Kansas are listed here. If you know of other programs that meet state registry standards and are being conducted in the city, send them to us and we will add them to the page.
Colby County Community College
1255 South Range Avenue,
Colby, KS 67701
(785) 462-3984
www.colbycc.edu/
Out of all the total population of elderly in the country, 4.2% of that are in a nursing home. This number is continuously rising every year because of the increased number of people who need help with their health. With this in mind, there is also a growing demand for healthcare providers especially nursing aides. This is the best time for you to become one because of the guarantee that you will have work waiting for you when you graduate. By becoming a certified nursing assistant, you get to gain experience providing health care services that can be used for advancement later on.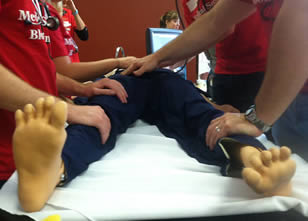 Nursing assistants are tasked with taking care of the patients using the basic health care skills they learned during a training program. In order to become a nursing aide you will need to undergo proper education and training from a state-certified CNA classes. These programs will offer you a total of 90 hours of training, which will be divided in to lectures and skills training. It will take you an average of 2 to 3 months to complete your training, depending on the program you enroll in.
Once you are through with your training, you will become eligible to apply for the license exams. If you are able to pass all the tests in the final exams, your name will be entered in the Registry. The state does not allow any individual to work as a nurse aide if he or she was not able to pass the exams. You can call the Kansas Nurse Aide Registry at (785) 296-6877 and talk with a representative to learn more about how you can qualify.
Colby is the county seat of Thomas County. It is also known as "The Oasis on the Plains". Founded in 1885, the city was named after J.R. Colby, who was a preacher and a local land assessor. According to the census of 2010, their total population was around 5,387. They have a population density of 1,600/sq miles. The total area of this city is approximately 3.3 sq miles, where all of it is land. Major highways that you can access to get to this city are Interstate 70 and U.S. Route 24.
Examples of health care centers that are in the city are Family Center for Health Care, Docs On Call, Colby Medical & Surgical Center, NW Kansas Physical Therapy, Citizens Medical Center, Wings Upon The Prairie Inc., High Plains Mental Health Center, and Heartland Rural Counseling Services Inc. photo attribution: iubmedicalsciences