Those who are searching for training in Mobile, Alabama to become a certified nursing assistant can locate them on this page. The CNA courses listed here are all approved by the state's Department of Health. Feel free to call the number provided along with the facilities if you have any concerns regarding their certification process.
Clinton L. Johnson Center for Economic Development
151 S. Claiborne St.,
Mobile, AL 36602
(251) 470-1728
The City of Mobile is an excellent place to start a career as a nurse aide. This city is currently the county seat of Mobile County. Nicknamed as "The Port City," it has a total area of 159.4 square miles. As of the last census, the city's total population had reached up to 195,111 people, which gives you an idea what the demand for health care is.  Its hospitals and health systems are known to be some of the city's top employers, having thousands of employees.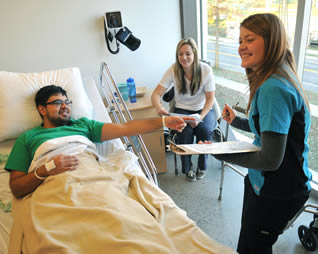 Requirements to become a CNA
Any individual who wishes to work as a nurse aide in the state of Alabama must be listed in the Alabama Nurse Aide Registry. To get into the NAR, an individual must complete a State-approved Nurse Aide Training and Competency Evaluation Program and pass both the written and skills test of the NNAAP exam. Individuals who complete their training will only have 24 months to get certified.
Where to enroll in an authorized program
A training facility that wishes to offer nurse aide training must first get approval from the Department of Health before taking any students. Candidates must also ensure that the facility that they select is approved by the state's DOH. Approved training programs consist of at least 120 hours of theories and practical training. Sine online courses do not have practical training; candidates who complete an online course still can't apply for the NNAAP exam. You can find approved programs offered though:
–    Hospitals
–    Nursing Homes
–    Community Colleges
–    Vocational and Technical Schools
–    Private Institutions
–    Government Organizations
–    Assisted Living Centers
–    Rehabilitation Clinics
Student nurses and nursing graduates who wish to become nurse aides must still take the NNAAP exam to get into the Nurse Aide Registry. However, they may no longer be required to complete a 120-hour CNA program. They will be required to provide an official transcript of records to prove their education and training.
The National Nurse Aide Assessment Program Examination
The NNAAP exams are scheduled and conducted with the coordination of the NACES and Pearson VUE. You can get the application forms by visiting www.pearsonvue.com. If you need help in completing the application forms or have any questions, please call the NACES Customer Service Representative at (877) 889-0930.
In one envelope, place your application forms; your Social Security number; Date of Birth; your mailing address; contact number; type of examination you want; exam fee; proof of training completion; your Sponsor Information; location where you wish to take the exam; and send them to:
NACES Plus Foundation, Inc.
Alabama NNAAP
8501 North Mopac Expressway, Suite 400
Austin, Texas 78759
The NNAAP exam is divided into a written or oral exam and a manual skills evaluation. Both tests are conducted on the same day at an approved testing center. Candidates must pass both tests to get into the Nurse Aide Registry and get certified. The score reports are usually released on the same day if there are not technical problems.
Working as a Certified Nurse Aide
Once you get certified, you'll be allowed to work in any health care facility you wish. Mobile has four major medical cities within its limits: the Providence hospital; the Daughters of Charity; the Mobile City Hospital; and the Springhill Medical Center. If you don't wish to work there, are still various healthcare facilities to choose from. photo attribution: ufv