The CNA training offered by colleges in Wilson, North Carolina that are available as of the making of this post are all listed for you in detail below. Students who complete the required hourly instruction will be allowed to schedule a license examination date. Contact the school directly for more information about tuition costs, certification requirements, and class schedules.
Wilson Community College
902 Herring Avenue East
Wilson, NC 27893
(252) 291-1195
http://www.wilsoncc.edu/
Getting into the N.C. Nurse Aide I Registry is the main goal of becoming a nurse aide. Only those who are on the list are allowed to work in a nursing facility as a nurse aide. To get into the registry, you must pass the National Nurse Aide Assessment Program exam.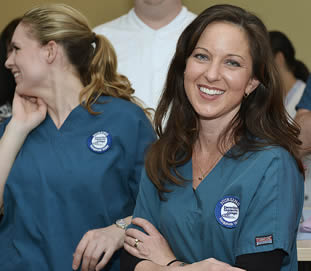 The exam consists of a written exam and a skills evaluation of selected nursing skills that a nurse aide is allowed to do. The written exam may also be taken in its oral version, which is offered in English and Spanish. Candidates must pass all the tests within 3 attempts and within 2 weeks of completing their training.
To help you prepare to challenge the NNAP exam, you must first establish eligibility. The best way to do this for those with no background in healthcare is to complete a North Carolina nurse aide I program. Nursing students and graduates may also challenge the exams directly without the need for additional training. Since this is a "challenge" state, CNAs from other states who wish to work in the state must also challenge the test.
Retraining is required for those who fail to get certified after 3 attempts or within 2 years from completing training. It is also required for those who fail to work as a nurse aide for a minimum of 8 hours within 24 months of being certified. Renewal for the CNA certifications in this state is free.
Getting a nurse aide certificate will allow you to gain a chance to climb the career ladder. If you wish to increase your knowledge and skills as a nurse aide and love to work with older people, you can try to be a geriatric nurse. Like being a nurse aide I, you must be on the Geriatric Aide Registry before you can work as a geriatric aide.
Training is always the fundamental need for any career. Your first step in becoming a geriatric aide is to complete a state-certified training course. You can try to contact your local colleges and ask if they offer the course. As soon as you complete your training, your instructor will enter your name on the GAR and you will get your advance certificate.
This city is the county seat of Wilson County. You can find this city in the Coastal Plain region of the state. It is considered as the 18th largest city in the state of North Carolina. As of the 2010 census, their total population was at 49,167 people. It has a total area of 23.4 sq miles and a population density of 1,906.9/sq mile. The city was named after Louis Dicken Wilson.
The Wilson Medical Center is considered as the primary hospital serving the city. Other health care centers that you can find in the area include Eastern Carolina Pediatrics PA Inc., Wilson Dermatology Clinic PA, Wilson Immediate Care PA, Carolina Quick Care, Family Medicine, Verma Krishna MD, Hosanna Youth Facilities Inc., American Health LLC, Psychological Medicine Cl, Wilmed Healthcare Foundation, and many more. photo attribution: westconn