CNA Classes in Sunnyvale, California are listed on this page. For more information on how to become a certified nursing assistant, class schedules, and tuition fees please contact the number that is provided below.
Sunnyvale Cupertino Adult Community Education
591 West Fremont Ave
Sunnyvale, CA 94087
(408) 522-2739
TLS Education Center
550 Lakeside Drive, Ste-10
Sunnyvale, CA 94085
(408) 747-0194
[Morning, Evening, And Weekend Classes Are Available]
Working as a certified nursing aide in California is one of the best occupations nowadays. The demand for healthcare professionals, especially nursing aides are continually increasing. There are also plenty of career opportunities for those who are in the field of healthcare.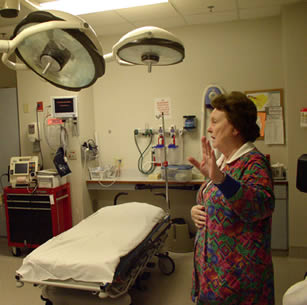 The first thing that you need to do is to look for an institution that offers an approved nursing assistant program. You must make sure that the program is approved by the Department of Public Health before you enroll in the program. The state requires approved programs to offer at least 150 hours of both lectures and practical training.
After completing a training program, you can now apply for the National Nurse Aide Assessment Program exam or NNAAP exam. A CNA certification is necessary to work as a nursing aide in California. This test consists of a written/oral test and a practical skills test. You will be required to pass both tests to get your certification.
Before you can submit your application form (http://www.asisvcs.com/publications/pdf/070508.pdf) to your local Regional Testing Center, you must first submit the Initial Application form (http://www.asisvcs.com/publications/pdf/070503.pdf) to the ATCS and wait for their approval.
California Department of Public Health
Licensing and Certification Program
Aide and Technician Certification Section
MS 3301
P.O. Box 997416
Sacramento, California 95899-7416
Fax: (916) 552-8785
California offers reciprocity to certified nursing aides from other states. To apply, applicants must have a valid certification and must be in good standing with their state. They will be asked to submit the Initial Application form and submit it along with other documents. Those who get approved for reciprocity will be allowed to work in different healthcare facilities as nursing aides without the need for further testing.
CNA certifications in CA are only valid for 24 months. A notice is sent out by the ATCS at least 4 months prior to the certification's expiration. You will need to work at least 8 hours under the supervision of a registered nurse to qualify for renewal. You will also be required to complete 48 hours of in-service training/continuing education. If you fail to renew your certification and let it expire you will not be allowed to continue working as a nurse aide.
Sunnyvale is located in Santa Clara County. It is considered one of the major cities that are part of Silicon Valley. As of the census of 2010, their population has now reached up to 140,081. You can find that this city is bordered by San Jose, Mountain View, Los Altos, Cupertino, and Santa Clara.  You can also see that this city lies along Highway 101.
Health clinics that are located within the city include California Health Center, Bayer Healthcare Metrika, Palo Alto Medical Clinic, Travel Clinic – Palo Alto Medical Foundation, Generations Community Wellness Centers, Advanced Healthcare Management, From the Heart Health Care, G Cg Surgical Center, STD Test Express, and Gateway Healthcare Products Inc. photo attribution: usdagov