The CNA classes in Roanoke, Virginia that are shown on this page offer the latest training courses that you can sign-up for. For more details about enrolling in health care instruction the cost of schooling, program schedules, or certification requirements, please contact one of the training facilities listed below. If you know of any other institutions not listed here, contact us so we can add them to this page.
Friendship Health Care Center
327 Hershberger Road NW
Roanoke, VA 24012
Generation Solutions
4502 Starkey Road, S.W.
Roanoke, VA 24014
Kissito HealthCare Nurse Aide Program
5228 Valleypointe Parkway
Roanoke, VA 24019
One of the best ways to start a career in the field of health is to become a certified nurse aide. What makes this career different from others? Well, unlike other careers such as nursing, you don't have to spend years of education before you can start working as one. All you need to start working as a nursing aide is to get proper training by enrolling in a CNA program and get a certification from the Board of Nursing.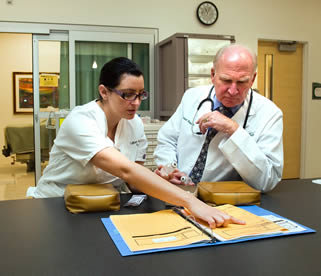 The OBRA of '87 has required that all programs must offer at least 75 hours of training. All training curriculum must consist of both lectures and practical training. Every program must also be headed by a registered nurse with enough nursing experience working in a long-term care center and has completed continuing education on teaching nurse aide students.
General Requirement to be accepted into a CNA program:
–    Age: you must be at least 16 years old
–    Education: there are no educational prerequisites in this state. You just need to know how to read and write.
–    English: aspirants must know how to speak and understand English.
–    Health: Must be mentally and physically healthy enough to take care of the patients. They must also be free of any communicable diseases such as TB.
–    Criminal Background: must pass the national (federal and state) criminal background checks
Even as a student, you will already have the opportunity to see what it's like to work as a full-fledged nurse aide, especially if you enroll in a facility-based program. Since you'll still be under training at that time, you will not be allowed to perform any procedure that has not yet been tackled in the classroom. Prior to handling any patient, you'll first be taught on important topics like infection control, safety and emergency care, nursing procedures, respecting the patient's rights and independence, and many more.
As soon as you've completed all your training, you can now apply for the NNAAP exam. Applicants can apply for the state exam by submitting their school transcripts, completed application, valid photo I.D, passing a state of Virginia and U.S federal background check, and testing fees. Taking this exam is the final step in becoming a nurse aide. The NNAAP exam is divided into two parts – a written/oral test and a skills evaluation exam. You must pass both tests to get into the NAR and receive your certification.
The exam results are normally released on the same day if there are no technical problems. Upon successfully completing both the training and taking the test, the applicant will be put on the Virginia Nurse Aide Registry and be able to get a job as a nursing assistant. The listing is good for a two year period.
A CNA certification will make you eligible to work as a full-time nurse aide in any health care facility in the state. You can use your certification as proof that you are a competent nurse aide. Additionally, if you have previously completed a nurses aide training course in another state you can apply for reciprocity by showing proof that you completed training.
Where to work as a CNA?
You can work in any health care facility as a nurse aide so long as your name is on the
Registry and you have a valid certification. Examples of the most common places where you can find a certified nursing assistant include:
–    Hospitals
–    Nursing Homes
–    Assisted Living Centers
–    Rehabilitation Clinics
–    Long-term Care Facilities
–    Clinics
–    Patient's own home
If you wish to further your knowledge and skills as a nursing aide, then you can enroll in a state-certified advanced training program. These programs will teach you procedures that were not taught in your usual program. Once you complete the training program, all you need to do next is to submit your application for the advance certification. You won't need to take another certification exam.
This is an independent city that is in the Commonwealth. You can find the city situated in the Roanoke Valley. It is included in the Roanoke Metropolitan Statistical Area. Roanoke is considered as the 10th largest city in the Commonwealth. According to the census of 2010, their total population was around 97,032 people. It has a total area of approximately 43 sq miles and has a population density of 2,261.8/sq mile.
The health care facilities that you can find in the area include UCare Health Center Roanoke, Garber Tammy B MS, Support Systems LLC, Healthcare Contract Resources, Depaul Community Resources Clinical Services, Boxtey Hill Clinic Inc., First Home Care, Walker Healthcare Services Group, and many more. photo attribution: codnewsroom