The available CNA classes in Nashville, Tennessee are all found here. For any questions regarding training, you can contact the school phone number provided on this page or go to their address during business hours.
Saint Thomas Hospital
4220 Harding Road,
Nashville, TN 37202
(615) 222-6660
Maplewood High School
401 Maplewood Lane,
Nashville, TN 37216
(615) 259-5564
Nursing Assistant Training Specialists
176 Thompson Lane,
Nashville, TN 37217
(615) 333-8474
New Hope Foundation, Inc.
629 Woodland Street,
Nashville, TN 37206
(615) 271-2800
Absolute Medical
2131 Murfreesboro Road, Suite 15,
Nashville, TN 37217
(615) 360-5031
Lipscomb University and Vanderbilt University Nursing Partnership Program
Godchaux Hall, 461 21st Avenue South,
Nashville, TN 37240
(615) 322-4400
Friendship Foundation
333 Plus Park Blvd.,
Nashville, TN 37217
(615) 365-4424
If you are interested in helping to care for people and let them live a better life, then you might want to think about becoming a nursing aide. A nursing aide helps nurses provide nursing and nursing-related care to the patients living in different health care institutions. The United States Bureau of Labor and Statistics expect a continuous increase in demand for this profession up until the end of the decade.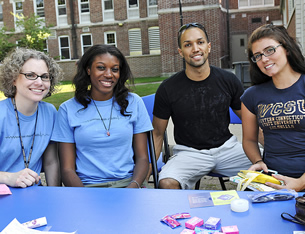 The first step in becoming a nursing aide is to enroll in a suitable CNA training program. Before you enroll in one, please verify if it is approved by the state's Department of Health. By completing an approved program, you will learn the knowledge and skills needed to meet the individual needs of patients.
Both the federal and state laws require approved program to offer a minimum of 75 hours of training. These hours are divided into classroom instructions and at least 16 hours of clinical training.  Classes are to be coordinated by a registered nurse and offer specific training in a variety of nursing related techniques. Some of the skills you will learn during training include safety procedures, resident independence, communication aptitude, emergency preparedness, interpersonal protocols, infection control, patient rights, CPR and the Heimlich Maneuver.
Once you complete your training, you will receive a certificate of completion and a training roster number. These two will serve as proof of your training when you apply for the certification exam. Passing the certification exam is one of the ways to get into the NAR. According to the law, you can only work as a nursing aide if you are listed in the Registry. You can get an application packet at hdmaster.com or request one by calling (877) 201-0758.
After you have completed your course requirement you will be able to apply to take the competency exams. The certification examination is divided into two parts. The first part is the 75-item multiple-choice knowledge exam. For those who have difficulty in reading English, this exam can be taken in its oral version. You will have 90 minutes to answer all the questions. The second part is the skills tests. In this part, you will have 30 minutes to perform all 5 nursing skills in front of an evaluator.
You can only get into the NAR if you pass both parts of the exam. Once you are in, you will receive your certification in 4-6 weeks. You must renew your certification every 2 years to keep your name on the Registry. Employers will only hire individuals who are listed in the NAR. If your certification expires, you will lose your eligibility to work as a nursing aide.
To renew your listing you will need to send in verification of your working one 8 hour shift as a CNA for each 24 month time period. You can check the status of nursing assistants on the registry, 24 hours a day, 7 days a week at this toll free phone number: 1-800-778-4504. For more information about certification requirements you can contact the  Tennessee Nurse Aide Program Office by calling:  (615) 532-5171 on the days of  Monday through Friday from 8:00 a.m. to 4:30 p.m. Central Standard Time.
This is the capital of the state of Tennessee. Nashville also serves as the county seat of Davidson County. The city of Nashville is located on the Cumberland River. It is also known as Music City and Athens of the South. According to the census of 2010, their total population had reached up to a total of 601,222 and has a population density of 1,200/sq mile. The city of Nashville has an estimated total area of approximately 527.9 sq miles, where 23.9 sq miles of it is water.
The Vanderbilt University and Medical Center, and the Saint Thomas Health Services are two of the biggest employers that are found in the city. Other providers that are located in the area include Metro Center Health Care Group, Nashville Male Medical Clinic Inc., Vanderbilt Occupational Health Clinic, Health Care Pharmacy Bellevue, and many more. photo attribution: westconn