The nursing assistant training courses that are available in Nashua, New Hampshire are found in the list below. Those who qualify to enroll will receive information about health care theory as well as get to practice using medical skills in a clinical setting.
American Red Cross Greater Nashua and Souhegan Valley Chapter
28 Concord Street, Nashua, NH 03064
(603) 886-1316
http://www.redcross.org/nh/concord
St. Joseph Hospital School of Nursing Health Occupations
5 Woodward Ave., Nashua, NH 03060
(603) 594-2567
http://www.sjhacademiccenter.org/
The best way for those who want to start a career in healthcare is to become a nursing assistant. This profession's demand is very high now and is continuing to increase. Comparing to other options, choosing this line of work is much cheaper and is faster. Keep in mind however, that being a nursing assistant is best suited for those who want to help others without thinking about a large salary.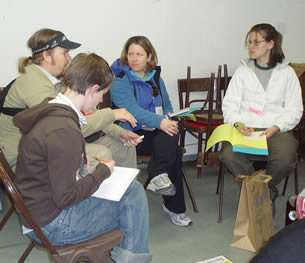 Before you are allowed to be a nursing assistant in the state of New Hampshire, you must first complete a CNA training program. While in the program, you will learn all the things that you need to take care of a patient. After completion, you can then take the license exams to get your license. Once approved you can be hired by care facilities and start providing assistance to patients under the general observation of a registered nurse.
Aside from gaining entry into the medical field, these are also opportunities that are only available to nurse aides. For example, if you want to pursue a higher degree, there are also other certifications that can be added on top of your nursing assistant certificate. One of those higher certifications is getting a Medication NA certificate/license, which can be acquired by enrolling in a different program.
This increase in the demand for nursing assistants has also opened new line of work for nurses. If they want, they can apply to become a nursing assistant clinical instructor. One of the requirements is that the applicant must be a Registered Nurse and has a Train-the-trainer certification. For more information, you can follow this link: http://www.nh.gov/nursing/nursing-assistant/train-the-trainer-guidelines.htm.
This city can be found in Hillsborough County. It is also called as the "Gate City". With a total population of 86,494 people, they are considered as the 2nd most populous city in the state. It has a population density of 2,700/sq mile. The total area of the city is estimated to be around 31.8 sq miles, where all of it is land. Nearby areas include Amherst, Hollis, Merrimack, Litchfield, Tyngsborough, and Pepperell.
Health centers that are found within the city area include May Kathryn Counseling Services, Healthbase, Nashua Area Health Center, Embrace Health Care LLC, Southern NH Counseling Center, Premiere Settlement Services LLC, Access Crisis Services At Snhmc, Senior Adult Mental Health Unit, The Physicians Group of Nashua, and Neighborhood Health Center for Greater Nashua. photo attribution: create-learning