The CNA Training classes available in Kansas City, Kansas that are KDADS approved for enrollment are shown on this page. If you have any inquiries about their programs, please call the phone number provided below and speak with a school coordinator.
Donnelly College
608 North 18th Street,
Kansas City, KS 66102
(913) 621-8792
http://donnelly.edu/
Kansas City KS Community College
7250 State Avenue,
Kansas City, KS 66112
(913) 288-7174
http://www.kckcc.edu/
(Also offers online courses)
Nursing assistants are tasked with assisting the members of the healthcare team, especially the RNs, in taking care of the patients. They use the basic nursing skills such as bed baths, taking vital signs, maintain hygiene, and even help in emergency procedures when the need arises. It is very important that the quality of care that the patients receive should only be of top class.  With that in mind, that is why the state of Kansas requires all aspiring nursing assistants to undergo proper education and training. To ensure this, they are required to only enroll in CNA classes that are approved by the state. These programs can be found anywhere in the state because of the profession's high demand in the country.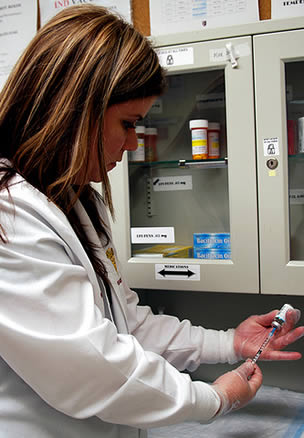 When you enroll in such programs, you will have a total of 90 hours of training at the end of your program. Your training will be composed of lectures, skills training, and clinical duties. After you complete the program all that is left for you to do is to apply for and take the license exams. When you take the exams you will need to pass both a skills demonstration and a written test. Once you are able to pass all the tests, your name will automatically be entered in the state's Nurse Aide Registry. To check your certification status on the Kansas Nurse Aide Registry you can visit the following web address: www.ksnurseaidregistry.org, In addition you can call them with any questions you have at (785) 296-6877.
This city is the county seat of Wyandotte County. It is the third-largest city in the entire state. It is also the 3rd largest city that belongs to the Kansas City, Missouri metropolitan area. It is located at Kaw Point, where there is the junction of the Kansas and Missouri rivers. It is sometimes called by its locals as KCK or KCW. According to the census of 2010, their total population was 145,786 people. They had a population density of 1,100/sq mile. The total area of this city is approximately 127.8 sq miles, where 3.5 square miles of it is water. Major roads that you can access from the city are Interstates 35 and 70.
The University of Kansas Hospital, University of Kansas Medical Center, and the Providence Medical Center are three of the biggest employers in the city. Other health care centers that are located in the area include STD Test Express, Swope Health Services, Compassionate Ear Warm Line, Wyandot Center, Kc Treatment Services LLC, Adult Health Services Inc., Turner House Children's Clinic, Genoa Health Care, and many more. photo attribution: armymedicine