The CNA training in Green Bay, Wisconsin that is listed here is approved by the state to meet certification exam requirements. For additional details about program enrollment, instruction schedules, cost of tuition, or certification requirements, please contact the school using the phone numbers provided below.
American Red Cross – Lakeland Chapter
2131 Deckner Ave
Green Bay, WI 54308-
(920) 227-4291
www.newredcross.org
Northeast Wisconsin Technical College
Po Box 19042
Green Bay, WI 54307-9042
(920) 498-7141
www.nwtc.edu
Working as a nursing aide is a great way to start a career in healthcare. Nursing aides are entry-level professionals who work in almost any healthcare facility, which makes their demand one of the highest in the field. To work as one you'll need to undergo proper training, pass the criminal background checks, and pass the National Nurse Aide Assessment Program Exam or NNAAP exam.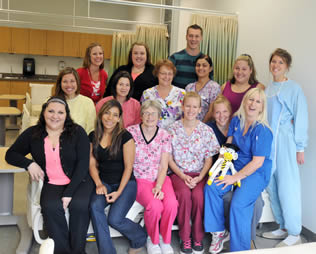 Training Process
Enrolling in a state-approved Nursing Aide Training Program (NATP) is the first step in becoming a nursing aide. Nursing aide training consists of both classroom and practical training in order to teach candidates the knowledge and skills needed in performing nursing aide tasks. The state requires programs to lasts at least 120 hours which shall contain at least 32 hours of supervised clinical practice. During the entire clinical practice students are handled by qualified CNA instructors. Topics that are taught in an approved program consists of personal care, basic nursing skills, safety and emergency procedures, resident rights and independence, infection control, medical terminologies, and many more.
CNA clinical instructors
The increased demand for nursing aides has also created a need for instructors. This demand has created more job opportunities for registered nurses. If you are a registered nurse with an active/valid license and are tired of working as a nurse, why not take a break and become a CNA Instructor? An RN with at least two (2) years of nursing experience can work as an instructor. Before you can handle students, you'll need to successfully complete a Train-the-Trainer program. You can find a complete list of approved programs by following this link: http://www.dhs.wisconsin.gov/caregiver/pdffiles/trainTheTrainerProg.pdf.
National Nursing Aide Assessment Program Exam (NNAAP Exam)
The NNAAP exam consists of a multiple-choice knowledge test and a skills evaluation exam. Candidates are given two hours to answer all 70 items of the written/oral test and 30 minutes to perform 5 randomly selected nursing tasks. Both of these tasks are conducted on the same day with the help of Pearson VUE. If a candidate passes both tests within 3 attempts or one year after completing training- whichever comes first- then the candidate will gain entry into the Nurse Aide Registry and be given a CNA card.
The Nurse Aide Registry
The WI-NAR consists of all the individuals who are allowed to work as long-term nursing aides in Wisconsin. Employers are required to verify the certification of each applicant before hiring him or her. If you want to check your own status on the NAR, you may do so by going to this site: http://www.asisvcs.com/services/registry/search_generic.asp?CPCat=0750NURSE.
All nurse aide training programs must be approved by the state of Wisconsin to receive approval to take the test for certification. Make sure the school you choose whether it is online, public college, or private instruction will allow you to qualify to take the certification exam before you enroll.
The city of Green Bay is the county seat of Brown County. You can find it at the head of Green Bay at the mouth of Fox River. It is considered as the third largest city in the entire state. It has more than 104,057 people at the census of 2010. This city is also the principal city of the Green Bay Metropolitan Statistical Area.  Green Bay has a total area of about 54.3 sq miles and has a population density of 3,332.1/sq mile.
The Bellin Memorial Hospital, St. Vincent Hospital, and the UnitedHealth Group are three of the biggest employers in the city. Other health care centers that you can find within the city include Bellin Health Psychiatric Center, Bellin Health, Pulmonary Diagnostics, Gastroenterology Associates, Synergy Counseling Service, Outpatient-Brown County Mental Health, and many more. photo attribution: ufv