The schools conducting CNA classes in Matthews, North Carolina are shown on this page. Students who enroll will get experience in using medical procedures and learn health care theory. For more information about enrolling in training, program schedules, or certification requirements, just call the number provided.
Central Piedmont Community College – Levine Campus
2800 Campus Ridge Road,
Matthews, NC 28105
(704) 330-4377
http://www.cpcc.edu/
The North Carolina Nurse Aide I Registry is a list of all the people who meet the state and federal training and testing requirements to work as a nurse aide I in a nursing facility. According to both federal and state requirements, any individual who wants to work as a nurse aide in a nursing home must be in the registry. This includes RNs, LPNs, nurse aides, and medication aides.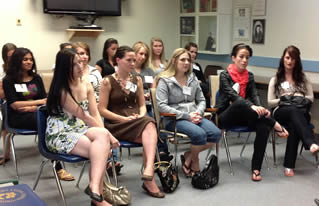 To get into the registry, you must be able to pass the nursing competency evaluation exam. The exam consists of a written/oral test and a skills evaluation exam. In order to gain entry into the registry, you must pass them both. If you want an oral exam as your first part, you must request this when you are submitting your application. If you have any questions regarding the exam, you can either contact Pearson VUE by calling their customer service phone number (888) 723-6773 or go to their official website at www.pearsonvue.com.
A CNA certification is only valid for 24 months. If you want to keep working as a nursing aide, you must renew your certification before it expires. There is no renewal fee in this state. All you have to do to renew it is to submit the renewal application form and provide proof that you were able to work for at least 8 hours as a nurse aide while under the supervision of a registered nurse.
Getting a CNA I certification will not only allow you to work as a nurse aide in North Carolina, you can also pursue new certifications that are only available to nurse aides. For example, you can train to become a geriatric aide, which is a CNA that specializes in taking care of the elderly. To become one, your name must be entered on the state's Geriatric Aide Registry. To do this, you will need to complete a 30-hour training course. During your training, you will cover subjects such as dementia, mental health, and death and dying.
Once you complete your course, your instructor will automatically enter our name on the registry. You can verify your certification by going online at https://www.ncnar.org/verify_listings1.jsp. Your record on the Nurse Aide I Registry will also be updated, and if you are listed as a medication aide, it will also appear on the N.C. Medication Aide Registry. Your geriatric aide certification will not expire and does not need any renewal.
This town is situated in Mecklenburg County. It is a large suburban town of Charlotte. It has a total area of about 14.2 square miles, where all of it is land. Its total population as of 2010 was around 27,198 people. It has a population density of 1,915.4/sq mile.
Examples of health care providers that you can find in the city include Meadows & Ohly LLC, Carolina Digestive Health Associates, PA, Silver Psychiatric Services, Presbyterian Breast Center-Matthews, Carolinas Healthcare Urgent Care, Outlook Behavioral Health, Alternative Health Care, Hong Hong Health Center, Presbyterian Healthcare Speech Services, Carolina Family Healthcare, and many more. photo attribution: ufv