The schools conducting CNA classes in Johnson City, Tennessee that are open for enrollment as of the making of this page are all listed here. If you have any questions about program curriculum, the cost to enroll, or competency test requirements, you can call a school using the phone numbers provided here.
NHC Healthcare
3209 Bristol Highway,
Johnson City, TN 37602
(423) 282-3311
Johnson City Medical Center Nurse Aide Training Program at Franklin Transitional Care
1106 West Market St.,
Johnson City, TN 37604
(423) 431-6697
Appalachian Christian Village
2012 Sherwood Drive,
Johnson City, TN 37601
(423) 928-3168
The process of becoming a nursing aide starts by enrolling in a state-approved training program. When you enroll, you will spend at least 75 hours in training with a minimum of 16 hours for your clinical practice. During the entire time, you will be under the care of a qualified clinical instructor who has a minimum of 2 years of working experience and has completed a Train the Trainer Course.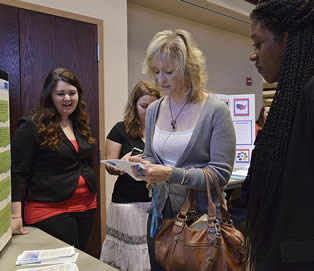 Before you handle any patient, you will first cover 16 hours learning about the following concepts:
•    Infection control
•    Safety and emergency protocols – including how to perform the Heimlich maneuver,
•    Promoting residents' independence,
•    Respecting residents' rights.
At the end of your training, you will receive a certificate of completion and a training registration number. These will be used when you apply for the certification exam. Military-trained medics, RNs, and LPNs are also able to apply for the exam without any additional training. When applying they can show proof of their training by providing a copy of their transcripts or diploma. Once you have completed your schooling you can apply to take the state competency examination which will allow you to be placed on the state registry.
The competency exam is an examination to test the knowledge and skills of the nursing aide candidate if he or she is competent enough to become certified. For those who have not yet been certified as a nursing aide before, this is the only route available to get into the Nurse Aide Registry. A nursing aide can only be certified once his name is in the Registry. To pass the competency exam, candidates must pass both the knowledge and skills test within 3 attempts or within 2 years after completing training. Currently, this exam is conducted by the Headmaster Testing Service. You can get a copy of the application form by going to http://www.hdmaster.com/testing/cnatesting/tennessee/tnformpages/tnforms/1101TN.pdf or calling (877) 201-0758.
According to the law, only nursing aides who are in the Registry will be allowed to work in a certified nursing facility. Employers are will verify the certification of each applicant before hiring them. If you wish to verify a certification or see your own record in the NAR, you can visit http://health.state.tn.us/Licensure/default.aspx or call (800) 778-4504.
The state of Tennessee will offer nurse aides from other states reciprocity so that they can work. When applying, you should still have an active status from the state you come from and should also be able to pass the state and federal background check. You will also be required to submit some documents that show your training and education transcripts and any job experience.
Johnson City is a part of Sullivan, Carter, and Washington counties. The majority of the city however, is located in Washington County. With a total population of 63,152 people during the last census, they are currently the 8th biggest city in the state. Their population density was about 1,412.4/sq mile. The total area of the city is approximately 39.6 sq miles, where only 0.3 square miles of it is water. Major roads that you can access from this city include Interstates 26 and 81. There are also U.S. Routes 321 and 23.
There are a lot of health care centers that are located in this city; examples include Rural Health Services Consortium Inc., State of Franklin Healthcare Associates PLLC, Abortion Alternative Christian Services, First Assist Urgent Care, Medical Care Walk-In Clinic, Agape Women's Services, and many more. photo attribution: westconn