The CNA schools that are offering classes in the city of Independence, Missouri can be seen on this page. By enrolling in a certification training course you will become eligible to take the competency exams upon completion. Call to speak with a program adviser to learn how to enroll.
Career & Technical Center At Ft Osage
2101 N Twyman Rd, Independence, MO 64058
816 650-7180
http://www.fortosage.net/
Metro Comm College – Blue River
20301 East 78 Highway, Independence, MO 64057
816 604-4022
http://www.mcckc.edu/explore/campuses/blueriver/welcome.asp
According to the law, all nursing aides must be registered to the state's registry. This registry is overseen by the state's Department of Health and Senior Services. It contains not only the complete list of nursing aides who are allowed to work in the state, but also the list of approved clinical instructors and clinical supervisors. You can call to speak with one of their representatives by dialing 573-526-5686, or email them with questions at info@health.mo.gov.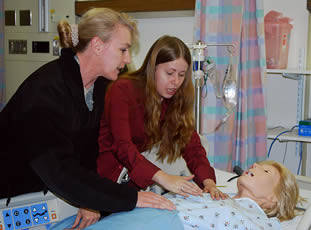 Generally those who wish to work as a nursing assistant will need to go through a training course that gives them the knowledge to take care of patients properly. Courses are required to be approved by the state and follow a federal, and state mandated curriculum. As of this writing schools must provide 75 hours of procedural training and 100 hours of on the job clinical skills practice. Once you finish the program you can schedule a time to and find a testing location for the final requirement.
It is also possible to try and challenge the exams directly without going through a training program. This will require a letter of approval from the state. If accepted you will be given one attempt to pass. If you fail you must sign-up for CNA classes to proceed any further.
To get onto the Registry, you must be able to pass both the written and the skills demonstration of the license exams. These exams should only be taken at approved colleges and nursing facility. Once your name is entered, you will then receive your certification. If you want to get another copy of your certificate, you will need to request it from your certifying association. If you do not know your certifying association, then you must contact the Health Education Unit at (573) 526-5686.
You can also verify a nursing aide status by going to https://webapp01.dhss.mo.gov/cnaregistry/CNASearch.aspx. Once you open the site, all you have to do is to fill out the necessary fields. You can either enter the individual's name or social security number.
This city is the county seat of Jackson County. It is also known as the "Queen City of Trials". It is also part of the Kansas City Metropolitan Area. Aside from being included in Jackson County it also belongs to Clay County. As of the latest census, their total population has grown up to 116,830. It has a total area of 78.5 sq mile and has a population density of 1,544.1/sq mile. Major roads that you can access to get to this city include Interstate 70 and 470, U.S. Route 24, U.S. Route 40, and Routes 7, 12, 78, and 291.
The major hospital serving this city is the Centerpoint Medical Center. Other health care centers that you may find in the area include Take Care Clinic at select Walgreens, Kansas City Psychiatric and Psychological Services LLC, Swope Health Services – Independence, Jackson County Medical Group, Advanced Health Care LLC, Frank Robert Doctor of Osteopathi, Access Counselling Network, and Family Medicine. photo attribution: militaryhealth