CNA classes in Hayward, California listed on this page includes private vocational schools, adult schools, health care training programs, and public colleges. Call the cna program's phone number listed below for additional information about class schedules and availability.
ADVANCED PRO NURSING INSTITUTE
2505 TECHNOLOGY DRIVE
HAYWARD, CA 94545
(510) 266-0868
Cornerstone College
24823 Soto Road
Hayward, California 94544
(510) 870-3522
(Day, Night and Weekend Classes Available)
HAYWARD ADULT SCHOOL
22100 PRINCETON STREET
HAYWARD, CA 94541
(510) 293-8595
NCP CAREER COLLEGE
21615 HESPERIAN BLVD #A
HAYWARD, CA 94541
(510) 785-0454
Working as a nursing aide means that you will be working under the watchful eyes of the nurses. You will assist them in providing nursing care to patients in hospitals, long-term care facilities, assisted living centers, nursing homes, and other healthcare settings. According to OBRA, you can only work as a nursing aide in this state if you are certified by the ACTS of the L&C Program.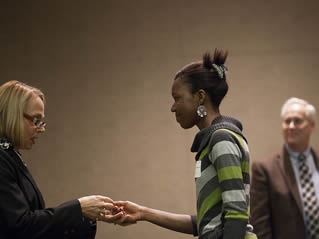 Like other states, the certification process in this state involves completing a state-approved training program and taking on the Nurse Aide Assessment Program exam. When looking for a training program to enroll in, just make sure to choose one that is approved by the Department of Public Health.
Approved CNA programs in this state are required to offer their students no less than 150 hours. These hours are divided into both lectures (50 hours) and on-the-job training (100 hours). Both the clinical and classroom training and taught at the same time. However, students are required to spend the first 16 hours learning about infection control, patients' rights and independence, communication and interpersonal skills, and safety and emergency procedures before handling any patient.
After completing the training program, the next step is to apply for the NNAAP exam. This exam consists of 2 parts: the written/oral test and the skills exam. Both tests are taken on the same day. Aspiring nursing aides must pass both parts to get certified by the ATCS.
Another way of getting a nurse aide certification in this state is by applying for reciprocity. This process allows certified nursing aides from other states to transfer their certification and work in California. Applicants must have a current certification and a clean record. Their names must not be on the Abuse Registry.
CNA certifications in this state must be renewed every 2 years. Nursing aides must renew their certification in order to keep eligibility to work in a state-approved nursing facility. To avoid problems when renewing, please inform the ATCS if you ever change your name or address.  A notice will be sent to your address at least 45 days before your certification expires.
To qualify for renewal you are required to work as a paid certified nursing aide for at least 8 hours and complete 48 hours of in-service training or continuing education. If your certification expires you can reactivate it by taking a competency evaluation exam within the year of your certification's expiration.
Hayward CA is located in Alameda County and is close to Union City and Oakland. the city has a current population of 144,186 and is centrally located in the East Bay. There are two main ER hospitals in town, St. Rose Hospital, and the Kaiser Permanente medical center. There are also numerous smaller health care providers including the Bay Point Healthcare Center, Bassard Convalescent Hospital and  Horizon Services for substance abuse. photo attribution: codnewsroom