The CNA schools providing instruction classes in Goldsboro, North Carolina that are currently open for enrollment are all shown to you on this page. If you have any questions about their course curriculum, how to enroll in training, cost of classes, or program certification requirements, call the phone number listed below.
Cherry Hospital
201 Stevens Mill Road
Goldsboro, NC 27530
(919) 731-3200
http://www.ncdhhs.gov/dsohf/cherry/
Wayne Community College
3000 Wayne Memorial Drive
Goldsboro, NC 27534
(919) 735-5151
http://www.waynecc.edu/
A nurse aide works under the supervision of a registered nurse. They help take care of patients by providing nursing care that falls under the scope of their duties. Nurse aides I are allowed to do are simple and basic. They mainly focus on tasks involving personal care, elimination, nutrition, safety, and other procedures like vital signs taking.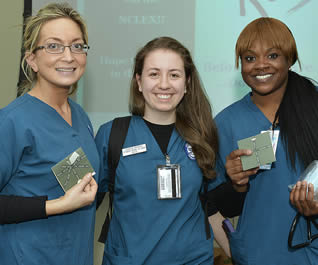 According to federal and state laws, all individuals who wish to work as a nurse aide must be listed on the Nurse Aide I Registry. This list includes nurses, LPNs, medication aides, geriatric aides, and nurse aides II. Individuals who are listed are those who were able to meet the federal and state training and testing requirements.
The only way to get into the NAR is by challenging the competency exam. CNAs who are listed on another state's Registry are also required to take the exam is they wish to work in North Carolina. The Nurse Aide Assessment Program exam consists of a written/oral exam and a skills evaluation. Candidates must pass all the tests to be listed on the NAR.
Names on the registry list are only valid for 24 months and must be renewed before their certification expires. To be eligible for renewal, one must work for at least 8 hours as a paid nurse aide while under the supervision of a registered nurse. A notice is sent out by the Registry within 2 to 3 months prior to the certificate expires. To avoid any problems with your notice, you need inform the NAR if you change your name or address.
This change can be done by calling the registry at (919) 855-3969, informing them through the mail, or by completing the Name/Address Change Reporting Form. There is no charge for changing your name or address on the registry. You can download the copy of the forms by going to www.ncnar.org.
This city is a part of Wayne County. It is also includes in the Goldsboro, North Carolina Metropolitan Statistical Area. It is considered as the county seat of Wayne County. You can find this city just a few miles southwest of Greenville. It is also about 55 miles southeast of Raleigh. This city is best known as the home of the Seymour Johnson Air Force Base. It has a total area of about 24.8 sq miles. According to the census of 2008, their total population was at 37,597.
Major hospitals that are serving the city include Wayne Memorial Hospital, Cherry Hospita, and O'Berry Neuro-Medical Center. Other health care centers that you can find in the city include Highgate Clinic PA, Medstat Urgent Care, Client First of Nc, Rehab Focus, Nova-Norwood, Universal Mental Health, Dove Healthcare Inc., and many more. photo attribution: westconn