For those looking to become a member of a health care team as a certified nursing assistant in the state of Texas one of the top questions is what is the CNA salary in Texas? These types of health care providers care for different patients under the supervision of registered nurses or LPNs. Part of their duties are to feed, transport, and groom their patients. They also offer assistance to RNs or LVNs as needed on a daily basis.
The healthcare industry is offering a career advancement with stable income as well as greater job opportunities. However, the salaries of certified nursing assistants vary depending on several factors and these may include the following: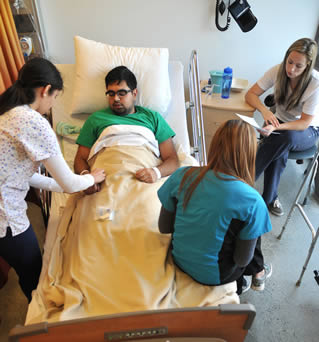 – Location of the job
– Work setting or facility
– Work experience
– Shift differentials
In Texas, the average certified nursing assistant salaries are three percent lower compared to the average certified nursing assistant salaries for national job postings. The mean salary ranges from approximately $20,000 to $24,000 per year. A lot of certified nursing assistants in Texas find this amount of salary just enough for a living. As an example the average hourly wage for a CNA in the city of Houston, Texas is $11.64.
The work experience of CNAs play a big impact with regards to hourly wages. If the CNA has tried working in health care in the past then there is greater chance that he or she will be able to land in a higher paying position compared to the entry-level nursing assistant. Having a work experience will allow the individual to apply for positions in different settings including the hospitals, government agencies, or other private hospitals. Entry-level CNAs often work in nursing homes or home health agencies.
The salaries of certified nursing assistants depend on the care settings and these are stated below:
– Federal executive branches $17.68 per hour
– Schools $15.86 for each hour
– General medical and surgical hospitals $13.95 for each hour
– Staffing agencies $12.39 per hour
– Nursing homes or long-duration care $12.36 hourly
– Assisted living facilities $12.08 for each hour
– Home health agencies $11.89 for every hour
In connection to the work experience required by most of the employers, the longer employment you have as certified nursing assistant, the more money that you will be earning. The increase in pay is based on the valuable work experience as well as education. This would also mean that your responsibilities and duties as certified nursing assistant will increase. It is indeed essential that you take advantage of whatever training opportunities that come along during your career because this helps in boosting your skills and your credentials as well.
Below are some factors influencing the increased demand for CNAs:
– Increased population of elderly
– High turnover of medical staff
– Hospital and healthcare facility expansion
– Overall growth of medical industry
Below is a breakdown of the CNA salary in Texas depending on which city they are working from. Large cities and metro areas generally offer a higher annual base salary, as well as a higher cost of living:
– Arlington $29,643
– Austin $29,857
– Beaumont $29,771
– Carrollton $29,845
– Dallas $30,613
– El Paso $27,895
– Fort Worth $30,124
– Garland $29,969
– Houston $31,100
– Odessa $21,814
– San Antonio $30,837
Based on the United States Department of Labor and the U.S Bureau of Labor Statistics., the healthcare position employment like CNAs is going to increase by about twenty one percent though the year 2022. With this outlook, there will also be increase in the number of certified nursing assistant students. They expect job openings to increase by 312,000 during that time.
Visit this page to find out more information about CNA training in Texas.