The CNA salary in Nevada can be very different depending on where you live and the type of facility you are employed with. If you enjoy helping people and looking out for their health, you might want to think about becoming a certified nursing assistant or CNA. Under the supervision of a registered nurse, a certified nursing assistant helps take care of a patient's healthcare needs. A CNA can find work in hospitals, clinics, nursing homes, adult day care canters, assisted living facilities and even in personal homes.
A CNA has daily contact with patients and provide for their basic quality-of-life needs and are able to gather vital information about a patient's condition. Of the entire health care team, a CNA is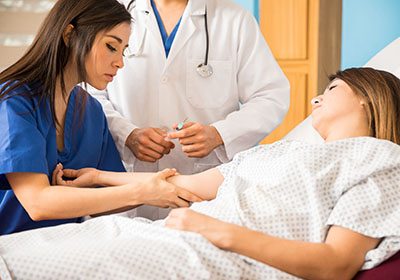 most likely to have constant, daily contact with a particular patient. Because of this, they are in the position to observe and report any changes in the patient's condition. These reports will serve as a basis for a doctor or nurse to come up with an effective care plan that will ensure the patients comfort and health.
As a CNA, you can find work in clinics, hospitals, nursing homes, adult day care centers, assisted living facilities and private homes. According to Indeed.com., in the United States, the average CNA is around $12.02 an hour or $23,726 a year. Salary-wise, Nevada is one of the best States to be a CNA with an average salary of $14.19 per hour. That comes to around $32,442 per year.
For a better idea of the earning potential of CNAs in Nevada, take a look at the following list from Salary.com. This shows CNA annual base salaries for seven cities in the Nevada area.
This is a list of annual CNA salary in Nevada for 7 popular cities.
$31,409 Carson City
$32,248 Henderson
$32,372 Las Vegas
$32,372 North Las Vegas
$31,254 Reno
$31,254 Sparks
$31,254 Sun Valley
While Nevada has some of the best wages for CNA in the U.S., a new CNA might find themselves being offered a lower salary then they initially anticipated. This is because work experience is still an important factor in many employers' eyes. It doesn't take long to earn experience in Nevada though, after about one year in a facility, most CNAs find they can either negotiate for a higher rate or transfer to a facility with better pay.
Nursing assistants in Nevada can earn an annual salary that varies depending on the type of health care facility they are employed at. Here are some of the top medical facilities offering CNA jobs in Nevada and their corresponding income.
Average Yearly CNA Salary in Nevada
Home Care – $23,000
Nursing Homes – $24,000
Home Health Care Employers – $30,000
Hospitals – $31,000
Self Employed Workers – $45,000
Hospitals are the biggest employers of CNAs in the country and big city hospitals offer an excellent pay grade and numerous benefits. Rural hospitals don't offer as much but they are still big employers and provide a competitive pay scale compared to the rest of the country.
After gaining experience, may CNAs in Nevada often try to become self-employed. Self-employed CNAs work for private clients, often times going to the client's home to provide care. Self-employed CNAs in Nevada can charge about $11-20 an hour and can earn an average of $47,000 yearly.
To be eligible for certification, you need to have a high school diploma or hold a GED. While a degree in healthcare can help prepare you for a CNA career, it is not typically required. In Nevada, the Nevada State Board of Nursing is in charge of CNA's working in the state. To become a CNA in Nevada, you need to complete a state-approved training program of at least 75 hours. At least 16 hours should take place in the clinical setting. Visit this page for more details about the available nursing assistant classes in Nevada in your area.
After completing training, you need to apply for certification with the Board of Nursing. Application forms are available on the board's website. Nevada also requires CNAs to pass a criminal background check. You will need to submit a set of fingerprints to the board along with your application form.
After submitting the application, you need to pass the competency exam. This exam consists of a knowledge component which can be taken as a written or oral examination and a practical skills examination which will require you to successfully perform actual nursing duties.
If you have been trained and certified as a CNA in another state, you can apply to transfer your certification to Nevada. Just contact the certifying state's CNA regulatory agency and ask for an endorsement form. If you had been working as a certified nursing assistant in another state, you will also be asked for documentation of your work record from the facility you worked in.