The CNA salary in Delaware is one of the first things that individuals seeking these jobs consider before undergoing training and certification. Despite Delaware not having a high cost of living, its salary wage is highly attractive to many wanting a start in the health care field. Nursing assistants work as members of a health care team at a medical facility and are in demand to meet the growing need for health care services. Workers in this occupation render services to various clients under the supervision of licensed practical nurses or registered nurses.
In Delaware, certified nursing assistants can begin earning an annual pay rate of $24,460. The more you gain experience and stay longer with the employer, the greater the chances that your hourly pay or salary wage can increase. The average salary wage of CNAs for each year is about $29,701. With several years of experience in the job, having increased wages already, one can have the potential to earn as much as $34,943 every year. Those who put in extra overtime can earn additional money over and above the standard work week.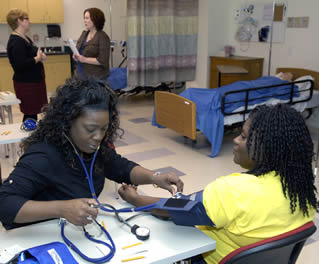 Here are the current statistics for the CNA salary in Delaware:
Yearly:
Average salary $23,761 – $35, 642
Starting salary $19, 568 – $29, 352
Top salary $27, 954 – $41, 931
Monthly:
Average salary $1, 980 – $2, 970
Starting salary $1, 631 – $2, 446
Top salary $2, 330 to $3, 494
Hourly:
Average salary $11 – $16
Starting salary $9 – $13
Top salary $12 – $19
The salary wage of certified nursing assistants is influenced according to several factors and these include the following:
Experience – CNAs with more experience earn higher rates compared to entry-level CNAs.
Job Location – the salary wage is based on the location from where you are working. The amount of money that you will received from work is in accordance to the cost of living of the work location.
Employer – private companies running a nursing facility may offer lesser pay compared to nursing facilities that are run by the government. Most of the individuals seek in hospitals because of the high pay rate being offered.
Listed below are is the average annual income of certified nursing assistants in DE according to different employment settings:
– Self employed $47, 000
– Hospital $31, 000
– Home health agencies $30, 000
– Nursing home $25, 000
– Home care $23, 000
Aside from the salary wage that certified nursing assistants are attracted to, their motivation can also be enhanced by providing them with benefits that they can take advantage of.
Here are some of the benefits offered to nursing assistants in Delaware:
– Bonus
– Pension
– Dismemberment as well as accidental death insurance
– Paid vacations and sick leaves
– Medical coverage
– Excellent pays for overtime
Below is the CNA salary in Delaware listed by city with their corresponding annual salary wage for each location:
– Bear $32, 504
– Delaware City $32, 588
– Dover $32, 302
– Harrington $33, 098
– Lewes $33, 098
– Middletown $31, 783
– Milford $33, 098
– New Castle $32, 746
– Newark $32, 612
– Rehoboth Beach $33, 098
– Seaford $33, 098
– Wilmington $32, 746
If you want to get started working you will need your certification license. A license can be acquired by attending 150 hours of CNA classes in Delaware, and passing the state exams which require taking a physical skills exam & written exam.