There are about fifteen thousand nursing assistants who work in Arizona as of the year 2013 of May, based on the Bureau of Labor Statistics. It is anticipated that the average number of nursing assistants working in Arizona is going to increase by about twenty percent over the following decade. With the growing population of health care workers an important question is, how much do CNA's make in Arizona for an hourly wage or annual income.
Individuals having interest in the field of health care can start a career in Arizona as a nursing assistant to gain valuable experience. You can take into consideration getting a CNA certification that will allow you to start working. When you first start, you will be earning a lesser pay rate as you will still be regarded as entry-level CNA. Those who already have work experience are able to earn a higher salary wage.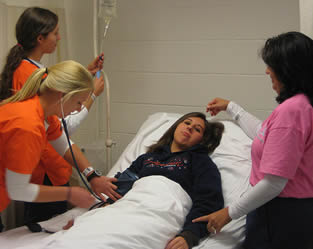 Compared to other nearby states, certified nursing assistants in Arizona earn a lesser pay rate. CNAs who have just been certified earn the salary wage of about $21,000 per year. Experienced CNAs have the annual income of approximately $29, 000. The average hourly wage falls around $12.24. Arizona has a lower than average cost of living which can help offset the negatives of the lower pay.
It is always advantageous to have experience being a certified nursing assistant. Hands-on experience indeed has vital role with regards to salary wages in Arizona. In order to have higher pay rate, it is essential to have a certification and experience. Having classroom experience does not prepare you in handling the duties and responsibilities of CNA. Actual practice aids in enhancing your skills in this field. Moreover, getting more experience is a key factor in obtaining higher salary wage.
Aside from the experience needed for salary increase, the location of the job is also a factor that explains the salary variations. Certified nursing assistants working at nursing homes averagely earn the lowest income in comparison to those working in government sectors who earn the highest pay rate. Moreover, the basis of the salary wage is also the cost of living whether is high or low.
Furthermore, having additional certifications plays an impact on the salary of certified nursing assistants. If they have more certifications, it would mean that more duties and responsibilities are expected from them. In return, they will be earning increased wages. Among the common additional certifications that CNA can pursue include the following: BLS, CMT, CPR, and CNA-A.
From the data of BLS in year 2013, the CNA salary in Arizona is reflected below depending on the types of employers/facilities:
– General Medical and Surgical Hospitals $28, 150
– Employment Services $26, 230
– Nursing Care Facilities $24, 970
– Assisted Living Facilities for the Elderly $24, 240
– Home Health Care Services $23, 940
The CNA salary in Arizona varies in annual wages depending on the city one is employed in:
– Avondale $29, 778
– Chandler $30, 094
– Flagstaff $26, 376
– Gilbert $30, 094
– Glendale $30, 747
– Goodyear $28, 565
– Lake Havasu City $25, 149
– Mesa $30, 094
– Peoria $29, 944
– Phoenix $30, 747
– Prescott $22, 659
– Scottsdale $30, 094
– Sierra Vista $24, 350
– Sun City $29, 287
– Surprise $27, 740
– Tempe $30, 094
– Tucson $28, 067
– Yuma $31, 696
If you want to get started on your way to becoming a certified and authorized to work you will need to complete state approved CNA classes in Arizona. Training will provide you with skills practice in a medical environment as well as classroom instruction. Those who complete all the classroom and clinical hours can apply for the certification tests to get added to the nursing assistant registry.