Certified nursing assistants in Alabama are one among the members of a health care team that work alongside registered nurses in health care facilities. CNA's are anticipated to increase in demand by about twenty-one percent between 2012 and 2022 based on the estimates of the Bureau of Labor Statistics. This is favorable entry level health care job for those with interest in the health care industry. A popular question for those interested in this occupation is, "What is the CNA Salary in Alabama?"
The average annual income of certified nursing assistants in Alabama is approximately between $18, 720 to $22, 880. In comparison to the average salary for CNA in United States, the salary of CNAs in Alabama is lower than other states. The mean hourly rate is about $10.38. The value of salary varies in different cities of the state because of some factors and these include the following: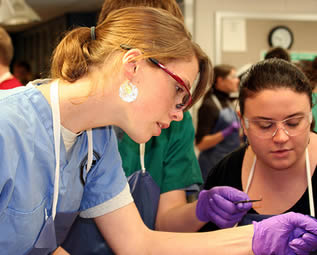 – Experience – it is advantageous if one has more experience because he or she will be earning more income compared to the inexperienced ones. Other than getting higher pay rate for having work experience, CNA can as well be offered with more benefits. CNAs with experience of less than one year can earn about $20, 000 per year up to $30, 000 depending on the work location. Workers having ten years of experience can earn an average annual income up to $32, 000.
– Location – individuals working in rural areas receive lesser pay rate compared to those who work in cities. The location is also a factor with regards to the cost of living. This means that the lower the cost of living is, then the lower the salary a nurse aide receives. In this connection, CNAs in Alabama earns lower salary because this state is regarded to have lower cost of living.
– Employer – salary depends on the type of employer from whom you are working for as CNA. Usually, those working in school district earns lesser than those working in private companies. The highest income wage for CNAs are offered in state or local governments, federal government, and hospitals.
The following is the estimated average income of CNAs according to different employers or employment settings:
– General Medical and Surgical Hospitals $28, 150
– Employment Services $26, 230
– Nursing Care Facilities $24, 970
– Assisted Living Facilities for the Elderly $24, 240
– Home Health Care Services $23, 940
Listed below is the CNA Salary in Alabama for different cities throughout the state and certified nursing assistants' corresponding salary wage for single year:
– Auburn $26, 128
– Birmingham $30, 012
– Decatur $25, 321
– Dothan $26, 243
– Florence $25, 779
– Gadsden $27, 534
– Georgiana $25, 132
– Huntsville $29, 819
– Madison $29, 819
– Mobile $29, 050
– Montgomery $27, 610
– Prattville $27, 610
– Tanner $27, 795
– Tuscaloosa $29, 343
Certified nursing assistants are offered with benefits that they can take advantage of and these include the following:
– Travel benefits
– Health insurance
– Retirement plans
– Disability insurance
– Overtime pay
– Pension plans
– Bonus
– Performance
To be able to begin your career as CNA in Alabama, it is required that you comply the following:
– Complete training program approved by the state which is 75 hours composed of both lecture and clinical training
– Pass the nurse aid examination
– Pass a background check
– Obtain a CNA verification
– based incentives
Visit this page to learn more about available CNA classes in Alabama to receive your certification to work.