The programs that teach one to become skilled as a CNA in Santa Clara, California are shown on this page. Included in the list of school classes are details such as contact numbers and addresses that you can use to contact the facility. Call the phone number provided to get specific details such as class schedules, tuition fees, and other training requirements.
Mission College
3000 Mission College Blvd.
Santa Clara, CA 95054
(408) 748-2750
Nurse Builders Academy
1825 Dela Cruz Blvd. Ste-105
Santa Clara, CA 95050
(408) 970-5025
A CNA certification is the main requirement to work as a nurse aide in California. Since this profession is only an entry-level profession, it will be much quicker to get a certification compared to other career choices. This is one of the reasons why training to become a certified nurse aide is one of the best ways to start a medical career.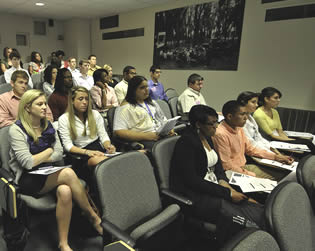 There are a number of requirements that must be met before you can start working as a nurse aide. The first one is to successfully complete a state-approved training program. You must learn the knowledge and skills needed to be a competent nurse aide before you handle any patient.
Upon enrolling into a CNA program you will be fingerprinted through Live Scan. This if for the mandatory national background checks for criminal records. You better be sure that you will be able to pass these checks before you even consider starting a career in this field. No nurse aide student is allowed to start the clinical training portion of the training program without undergoing the background checks.
Most of the training programs in California can be completed within 6 months. By completing a state-approved program you will become qualified to apply for the certification exam. This exam consists of a written/oral test and a skills evaluation exam. There are even some states that offer the oral exam in Spanish. You must pass both tests to get a nurse aide certificate.
Having a certificate will grant you permission to work in state-approved healthcare facilities. You will need to work, for compensation, for at least 8 hours as well as complete 48 hours of continuing education to qualify for renewal of your certificate. It is important that you avoid letting your certificate expire. No nursing assistant is allowed to continue working once his or her certificate has expired.
An expired certification can no longer be renewed. However, it can be reactivated by taking a competency evaluation exam within 2 years of the expiration. If you fail to reactivate within that time and want to work as a nurse aide again, you will have to start all over from the beginning.
This city is part of the Santa Clara County. The patron saint of the city is Santa Clara. As of the latest census, their population has now reached up to 116,468 citizens. You can find this city at the center of Silicon Valley. There are three famous creeks in the city, these are the San Tomas Aquino Creek, Saratoga Creek, and Calabazas Creek.
Examples of health clinics or facilities that can be found in the city include Gibraltar Healthcare Supplies, Bill Wilson Center, Hope Services, Right at Home, Santa Clara Imaging Center, Santa Clara Center Pediatrics – Palo Alto Medical Foundation – Clinic, and the Santa Clara Center – Palo Alto Medical Foundation – Clinic. photo attribution: usdagov