CNA programs offered by vocational centers in La Crosse, Wisconsin that are listed on this page are all the instructional programs that are open for enrollment as of the moment. To receive additional details about the health care education classes being offered, certification requirements, cost of tuition, or class schedules, call the school through the phone numbers listed on this page.
GUNDERSEN LUTHERAN MEDICAL FOUNDATION INC
1900 SOUTH AVE
LA CROSSE, WI 54601-
(608) 775-4329
WESTERN TECHNICAL COLLEGE
400 7TH ST N
LA CROSSE, WI 54602-
(608) 789-6105
www.westerntc.edu/
Certified Nursing Assistants are entry-level professionals. They work under the direct supervision of RNs and LPNs. The work that they perform depends on what is delegated to them by nurses. Though they might be entry-level professionals; they are important members of the health care team.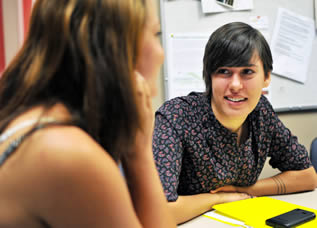 Nursing Assistant Training
If you want to become a competent nursing assistant, you'll have to learn the knowledge and skills needed to take care of the patients. This can be achieved by enrolling in a state-approved NATP. Nursing Assistant Training programs consist of 120 hours. These hours are divided into both lectures and supervised clinical practice in a licensed nursing facility.
If you pay for your training prior to employment, you must keep all official receipts. Getting employed within one year after acquiring your CNA certification may qualify you for reimbursement. The reimbursement doesn't just cover the training costs, but the testing fees as well.
Nursing Assistant Certification Exam
The certification exam in Wisconsin is conducted by the American Red Cross (ARC) with the help of Pearson VUE. The exam is divided into two parts: a multiple-choice written exam and a clinical skills test. Candidates who have trouble reading can request to take the oral version of the written exam. Requests to take the oral exam must be indicated upon applying. Requests made on the day of the examination cannot be accommodated by the testing facilitator.
Only candidates who pass both tests will gain entry into the state's Nurse Aide Registry. Once their names are entered, the Registry will then mail to them their CNA card within a few days. Employers will always check their applicants' names on the Registry before hiring. If you wish to check your status as a certified nursing assistant, you may do so by following this link: http://www.asisvcs.com/services/registry/search_generic.asp?CPCat=0750NURSE.
Nursing Assistant Career Advancement
A great way to improve your chances of climbing up the career ladder is by getting a medication aide certification. Acquiring this certification will allow a nursing assistant to give certain medications to patients while still under the supervision of the RNs. To get this certification, you'll need to successfully complete an approved CMA training program. The state's requirements to become eligible to enroll in a program and be a medication aide include the following:
a.    be at least 18 years old;
b.    have a high school diploma or a GED certificate;
c.    be currently on both the federal and state Nurse Aide Registry;
d.    have at least 2000 hours of working experience in direct patient/client care within the last 3 years;
e.    must have worked for at least 40 hours, within the last 90 days, with the residents whom you will be providing medications;
f.    get a letter of recommendations from licensed nurses, the director of nursing, and the administrator of the agency where you will be doing your clinical training.
For more information on how to become a certified medication aide, please follow this link: http://www.dhs.wisconsin.gov/rl_dsl/NHs/MedAides.htm
La Crosse is the county seat of La Crosse County. You can find this city just along the Mississippi River. It is also included in the La Crosse Metropolitan Statistical Area. According to the 2011 census, their estimated population was at 52,485 people. It has a total area of approximately 22.2 sq miles and has a population density of 2,572.9/sq mile.
The Gundersen Lutheran Medical Center, Franciscan Skemp Medical Center, and the Logistics Health Incorporated are some of the largest employers in the city. Other health care centers that you can find in the area include Prosthetic Laboratories, LaCrosse Monument Inc., Access Mobility Products, Coulee Region Cremation Group, ResCare HomeCare, and many more. photo attribution: ufv