The state approved certified nursing assistant training classes in Clairton, PA that are shown here are all the programs that are open for enrollment at this time. Call the facility to get the latest details about signing-up for instruction.
Steel Center Area Vocational Technical School
565 Lewis Run Rd., Jeff Boro,
Clairton, PA 15025
(412) 469-3200
Nursing assistants are important members of the health care team. They work under the watchful eyes of licensed nurses, and help provide and maintain nursing and nursing-related care to patients who are in various health care settings. Training to become a nursing assistant is a great way to enter the healthcare industry without spending too much time and money in training.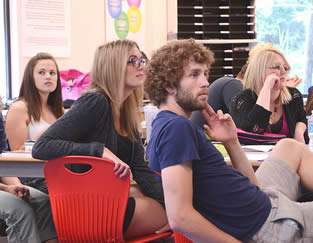 To be a nursing assistant you must be at least 16 years of age. You'll have to meet several requirements and undergo federal and state background checks for criminal records. The most important thing to have to work as a long-term CNA is a certificate that's issued by the state's Nurse Aide Registry.
The most common way of entering the NAR is through testing. You must pass both tests of the NNAAP exams right after you complete a state-approved training program. The NNAAP exam consists of a multiple-choice written test and a manual skills demonstration. Candidates are given 3 attempts within 24 months after completing their training to pass both tests.
One way of establishing eligibility to apply for the NNAAP exams is by successfully completing a training class that is certified by the state's Department of Education. These programs offer a minimum of 80 hours of instructions, which are divided into theories and supervised hands-on training. Students will learn about infection control, basic nursing care, personal care, mental rehabilitation, medical terms, human anatomy, safety and emergency procedures, and many more. It can take 3 to 4 months to complete your training depending on the program you choose.
Criminal background checks have become mandatory for all aspiring nursing assistant candidates. The background checks in this state are conducted before one is allowed to enroll in a class. The state will allow in-state residents to work for 30 days while waiting for the results. Those who are out-of-state residents are allowed to for up to 90 days.
Once you complete a class you will need to submit an application form along with your school transcripts to schedule a date to take the exams. The exams are provided in two parts, a written test and a manual skills demonstration. If a candidate is able to pass both tests, then his or her name will be entered into the Nurse Aide Registry. The registry will then send the person's Registry Card to his/her mailing address within three weeks after passing. This Registry Card may be shown to potential employers when applying for work.  You must not tamper with your Registry Card in any way since it may jeopardize your status on the Registry.
Your eligibility to work as a full-time nursing assistant is only limited to two years. If you wish to remain eligible then you will have to work for at least one day as a paid CNA within that time to qualify for renewal. A notice will be sent to your address at least 90 days prior to your certification's expiration. You must renew your certification before it expires by going to https://pulseportal.com.
If you are a CNA that has been certified in a different state, then you may be able to apply for reciprocity. If you are a graduate from a nursing course, then you will not be required to enroll in a training program before applying for the state exams. The same also goes for those that had trained as a medic in the military.
This city can be found in Allegheny County. The city is also known as the "City of Prayer". You can find this city bordered by Elizabeth, Glassport, Jefferson Hills, and West Mifflin. As of the 2010 census, their total population was around 6,796 people. They have a population density of 2,300/sq mile. The total area of the city is approximately 3.0 sq miles, where its majority is land.
Examples of health care providers and centers that are located in the city area include Shuman Tobi Doctor of Osteopathi, Prime Medical Group Administration, Southernwestern PA Cardiovascular, Freseniun Medical Services of Clairton, Mehta Rajesh M MD, Dermatological Assoc PC, Arden Courts of Jefferson Hills, Pandey Ramesh MD, and many more. photo attribution: ufv