You can find on this page, the entire list of CNA training programs that are available in Montgomery, Alabama. To find out more about their classes; their training schedules, tuition, enrollment period, please contact the number provided below to talk to a representative.
South University
122 Commerce Street,
Montgomery, AL 36104
(888) 204-9613
Website: www.southcollege.edu/campus/montgomery/intro.asp
Trenholm State Technical College
1225 Air Base Boulevard,
Montgomery, Al 36108
Website: www.trenholmtech.cc.al.us/
Easter Seals Central Alabama
2125 South Boulevard,
Montgomery, AL 36116
(334)288-0240
Website: www.eastersealsca.org/
If you're planning to work in the state of Alabama as a nursing aide, then why not work in its capital, Montgomery. Nicknamed "The Grump", the city of Montgomery has a total area of 156.19 square miles.  This city is considered to be the 4th largest city in the state. As of the census of 2012, the total population of the city had reached up to 205,293 people. A high population means a high demand for healthcare and its providers.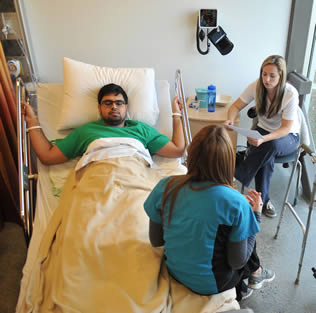 To work as a nursing aide in Alabama, one needs to be properly trained and certified to work as a long-term health care provider in a certified nursing facility. You can get the training that you need by enrolling in a CNA training program that's approved by the Alabama Department of Health. You can find approved training programs offered by nursing homes, hospitals, assisted living centers, community colleges, private training institutions, and vocational and technical schools.
Training in this state consists of a minimum of 120 hours of training. All training curriculum consists of both theoretical course works and supervised clinical practice in a certified nursing facility. During the course of the training, students are supervised by a CNA instructor who is trained to supervise nursing aides.
After completing your training, you will have 24 months to apply and pass the National Nurse Aide Assessment Program Exam. The NNAAP exam consists of a written exam and a manual skills demonstration. If you have trouble reading, you may request to take the oral version of the written test, instead. If a candidate fails to pass within the 24-month deadline, he or she will have to undergo retraining.
A candidate will only get into the Nurse Aide Registry if he passes both parts of the NNAAP exam. Should a candidate fail, he is given another 2 attempts to pass. The exam results are released on the exam day if there are no technical problems. You can check your status on the registry by clicking on this link: https://ph.state.al.us/NurseAideRegistry/(S(sy0xix453rfoqoaf2m5qubao))/Default.aspx.
Since the state no longer issues CNA certificate, the only official document that you will receive in the mail will be your score report. Names on the Registry, as well as certifications, are only valid for 2 years. A nursing aide must renew his or her certification to maintain his or her eligibility to work as a certified nursing aide. To qualify for re-certification, holders must work as a paid nursing aide for at least 8 hours in an approved health care facility, while under the supervision of a registered nurse. No employee is allowed to continue working with an expired certification.
Once you get certified, there are numerous health care facilities, which you can choose from to work as a certified nursing aide. Examples of these facilities include the Continuity Health Care, Oxford Health Care, Amedisys Home Health Care, Baptist Medical Center, American Family Care Center, Lloyd Nolan Long Term Care, Physicians to Children Inc., VA Medical Center, Jackson Hospital Flowers, and many more. photo attribution: ufv