The CNA Classes in Winston Salem, North Carolina are listed for you below. Students are required to enroll in course approved of by the North Carolina Department of Health and Services in order to be authorized to take the certification tests. Call the school phone number to learn more about enrolling.
Caduceus Nightingale Academy
3560 Vest Mill Rd #7
Winston-Salem, NC 27103
(336) 765-9925
Forsyth Technical Community College
2100 Silas Creek Parkway
Winston-Salem, NC 27103
(336) 734-7734
http://www.forsythtech.edu/
(Multiple classes are being offered)
Mount Eagle Institute
470 West Hanes Mill Road #109
Winston-Salem, NC 27105
(336) 776-0357
http://college.mounteag.com/
(Multiple classes are being offered)
There are now plenty of opportunities in the medical field for nursing aides. The demand for them has been increasing for several years now and is believed by experts to continue to rise until 2016. With this in mind, this is the perfect time for you to start a career as a nursing assistant. With the 75 hours of training, you will immediately become eligible to take the license exams.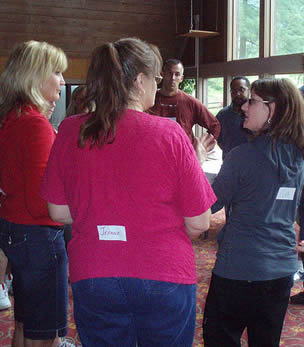 If you are able to pass the written exam and the return demonstration of the nursing skills, your name will then be entered into the NCNAR, which will allow you to work in a nursing facility. If you have any problems with written English, you can take the oral exams which are available in English and in Spanish. Both written and oral exams must be completed within 2 hours. The two consists of 70 questions, which most of them are multiple-choice. As for the skill demonstration part of the exams, you are given only 30 minutes to perform all 5 randomly selected nursing skills.
With the technology available, the results for each test can now be returned on the same day. After you submit your test, the evaluator will fax them to be scored. The results of the tests are returned approximately 10 minutes after. If there are any technical problems, your score report will be sent to you through mail within a week from the exam date.
One you become a nursing aide, you can now start working in a nursing home. If you want to pursue a higher course, you could try to consider becoming a medication nurse or a nurse aide II. Advance certificates will require you to undergo additional training and testing to get on their respective registries.
CNA licenses are only valid for up to 24 months. The initial licenses expire on the last day of the month that it was issued. For example, if your license was issued to you on November 1, 2012, your expiration day will fall on November 30, 2014. Since advance certificates/licenses are based on your CNA license, their expiration dates usually also fall on the same date. That is why it is important to renew it once you receive the notice a few months before its expiration. Renewal or recertification for the state of North Carolina is free of any charges.
This city is the county seat of Forsyth County. It is also considered to be the largest city there. With a total area of approximately 132.4 sq miles, it ranks fourth as the largest city in the entire state. According to the census of 2010, they have a total population of 229,617 residents. Its population density is 1,400.7/sq mile.
The Wake Forest University Baptist Medical Center is the biggest employer in the entire city. Health care is also considered as the biggest industry there. Other health care centers that you can find in the area include Behavioral Health Resources of Forsyth Medical Center, Mood Treatment Center, Cornerstone Health Care PA, Passport Health Communications, meri-Life & Health Services of Winston Salem Inc, and many more. photo attribution: create-learning