Those who desire to become nurse aides can find the latest training being given in Westlake Village, California in the list below. Those who enroll get theory and skills experience into how to perform common health care practices. For more information about becoming a nurse aide, training requirements, or class schedules, please call the phone number listed on this page.
Professional Medical Careers Institute Of CA.
920 Hampshire Road Ste. S
Westlake Village, CA 91361
(805) 497-4064
[multiple Classes Available]
To work as a certified nurse aide in California you must get a CNA certification. Getting a CNA certification in this state involves completing a CDPH-approved Nurse Aide Training Program (NATP), passing the criminal background checks, and challenging the state certification exam.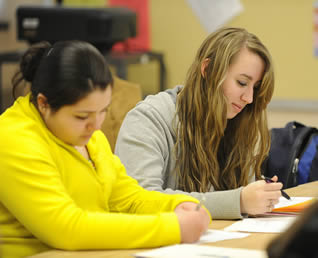 CDPH-approved NATPs are offered by different training institutions, schools, and healthcare providers. All aspects of their program are reviewed by the CDPH prior to accepting any student. The general requirements to be accepted into a program include:
•    Age: aspiring nurse aide students must be at least 18 years old.
•    Educational Attainment: most programs accept people who have at least a high school diploma.
•    English Proficiency: to be a nurse aide, a candidate must be able to speak, read, and understand Basic English.
•    Criminal Backgrounds: Most criminal background checks are done prior to the start of the clinical rotation of the training. Candidates must not have any record of abuse, drug addiction, and/or theft.
•    Health: Candidates will be required to undergo physical exams and medical tests to determine if they are physically capable of taking care of the patients and are free of communicable diseases.
Once you complete your training, you will be ready to challenge the CNA certification exam. This exam consists of a written/oral knowledge test and a clinical skills test. It will cover almost all of the things that you have learned in the program. If you pass all the tests, you will get a CNA certification issued by the state's Aide and Technician Certification Section or ATCS.
Getting a CNA certification means that you are now allowed to work in a CDPH-approved nursing home as a certified nurse aide. Your certification is valid for only 24 months. If you want to continue your eligibility to work in a certified nursing facility, you must renew your certification before it expires. No nurse aide is allowed to work with an expired certification.
To renew your certification you must first get work as a paid nurse aide while under the supervision of a registered nurse. Your work must at least reach 8 hours or one full shift. The next requirement is to complete 48 hours of in-service/continuing education. You are required to complete at least 12 hours of in-service/CE every year. Half of the required hours can be completed by enrolling in an online course that is approved by the CDPH.
Westlake is located on the western edge of Los Angeles County. It has a population of 8,270. This city is located in the region that is commonly known as Conejo Valley. It has a total area of 5.505 sq miles and a population density of 1,502.3/sq miles. This place also boarders the Malibu hills and is a few miles from the Pacific Ocean.
Health care center in the Westlake Village include Stirling Behavioral Health Institute, Lindora Medical Clinic, Wesminter Free Clinic, Westlake Village Urgent Care Family Medical, Westlake Eye Surgery Center, Baxter Healthcare, East & West Medical Clinic DR Grace Herbal Pharmacy, Lakeside Community Healthcare Medical Group, Gemini Diagnostics, Dermatology Associates of Westlake Village A Medical Group, and West Coast Psychiatry. photo attribution: departmentofed