The CNA training in Van Nuys, California are shown on this page. Classes will consist of 48 hours of instruction including skills practice and health care theory. Course must be approved by the state registry in order to qualify one to take the license exams. Call a school to get additional information.
Preferred College Of Nursing Van Nuys
6551 Van Nuys
Van Nuys, CA 91401
(818) 902-3708
National Career College
6850 Van Nuys Blvd.; S-300
Van Nuys, CA 91405
(818) 988-2300
A+ Health Care Training
14540 Victory Blvd St. 217A
Van Nuys, CA 91411
(818) 679-5633
Becoming a nursing aide can be one of the best career choices that you can make. Since the Health Industry will always be a necessity, there will always be job opportunities waiting for those who are in this line of work.  Nursing aides are currently in demand throughout the United States.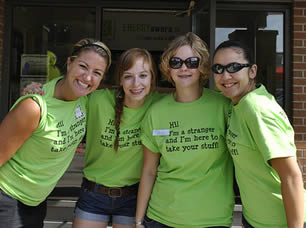 You must have a CNA certification if you wish to work as a CNA. The certification process in California generally is the same in other states. It involves you taking up a CNA training course and challenging the National Nurse Aide Assessment Program exam afterwards. Only those who completed an approved training program will be allowed to apply for the NNAAP exam.
Schools often require a physical exam, state and federal background screenings, and the submission of immunization report, and photo identification before you can join. Before enrolling you want to make sure the program is approved by the state's Aide and Technician Certification Section.
CNA courses in California take longer to complete than most. Approved programs are required to offer their students no less than 150 hours of training. The training hours are divided into 50 hours of lectures and 100 hours of clinical practice. Students are handled by qualified clinical instructors. After finishing the class you can then apply for the license exam. If you feel that you are still not ready to take the exam, you can postpone it for up to 2 years.
If you completed a training or educational program that offers similar training, please contact the CDPH to determine if you are eligible to apply for the NNAAP exam directly. You may call them between 8:00 AM to 5:00 at (916) 327-2445.
The NNAAP exam is divided into two parts – the written/oral test and the clinical skills test. Candidates must pass all the tests to get certified. If a candidate fails one part, he is allowed to reapply and retake the test he failed within 2 years of completing his training. If he fails to get certified within that time he will be required to undergo retraining before he can reapply.
If you pass all the tests your CNA certificate will be sent to you within 10 business days after passing. This certificate will prove that you are a competent nursing aide and can be shown to your potential employers. If your certificate does not arrive within 30 days after passing, please contact the CDPH immediately. For more information about the requirements to pass the nurse aide exam you can contact the California Department of Public Health at 916-327-2445.
CNA certificates are only valid for 2 years after passing. If you wish to maintain your eligibility to work as a certified nursing aide, you must renew your certification before it expires. The Aide and Technician Certification will send out a notice at least 4 months before your certificate expires. To be eligible for renewal, you must work for at least 8 hours and complete 48 hours of in-service training.
This city is part of the San Fernando Valley region of L.A. Its latest census has shown that it has around 136,443 people living in the city with a zip code area of 91401. To the west of this city, you can find Rosada and Interstate 405; while Hollywood can be found a few miles east.
Health centers that can be found within Van Nuys include TLC Health Center (818) 780-7779, 4836San Fernando Valley Community Mental Health Center – Cornerstone (818) 901-4836,  S & L Medical Center (714) 687-1737, Plaza Medical Clinic (818) 780-7900, Regal Valley Medical Group (818) 908-0015, Careline Healthcare Inc. (818) 786-4808, and A Plus Health Center (where aside from providing certified nursing assistant classes, it also serves as a health center) (818) 779-1288. photo attribution: ufv