Those looking for facilities in Tracy, California that offer nursing assistant training programs can find them below. Included in the list are different vocational certification preparation classes as well as health center training courses that are currently available for becoming a nurse's aide. For more information about getting your certification, cost of the school, or class schedules, contact the number provided.
Tracy Adult School Nurse Aide Course
315 East 11th Street,
Tracy, California 95376
(209) 831-5034
Tracy Adult School
315 East 11th Street,
Tracy, California 95376
(209) 831-5034
New Hope Care Center
2586 Buthmann Ave.,
Tracy, California 95376
(209) 832-2273
Tracy Convalescent Hospital
545 West Beverly Place,
Tracy, CA 95376
(209) 835-6034
Enrolling in a nurse aide training program is a necessary step in becoming a CNA in California. State-approved programs will teach you the knowledge and skills you will need to meet the individual needs of each client. The tasks that nurse aides perform however, will be based on which tasks are delegated by the nurses.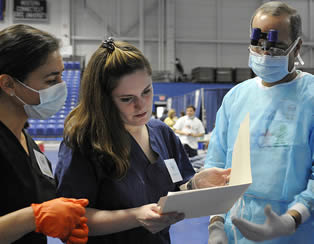 State-approved programs are required to offer at least 150 hours of training. Their curriculum is divided into lectures and practical training in an actual clinical setting. These programs are also required to be coordinated by a qualified clinical instructor. These instructors are mostly licensed nurses with enough working experience and have backgrounds in teaching or training adults.  When enrolled, you will learn about different concepts such as communication skills, mental health, infection control, aging process, safety and emergency procedures, roles and responsibilities, and patients' rights and independence.
By completing a state-approved NATP, you will become eligible to apply for the National Nurse Aide Assessment Program exam. This exam will test your competence in knowledge and skills. If you pass the written/oral test and the skills evaluation, you will get certified by the Aide and Technician Certification Section of the L&C Program. According to the law, only certified nurse aides are allowed to work in certified nursing facilities.
CNA certificates are only valid for 2 years. No individual is allowed to continue working with an expired certificate. To keep your certificate valid, you must renew it before it expires. Aside from the completed renewal forms (http://www.asisvcs.com/publications/pdf/070512.pdf), you will also be asked to provide proof of employment within the last 2 years and proof that you completed 48 hours of in-service/CE with this form (http://www.cdph.ca.gov/pubsforms/forms/CtrldForms/CDPH283a.pdf). If your certificate expires, you can reactivate it by passing an evaluation exam. If it has expired for more than 2 years, you will have to start from the beginning in order to get a new certificate.
To avoid any problems with your renewal, you must also inform the ATCS if you change your name or address. You can inform them by completing a Change in Name or Address form (http://www.cdph.ca.gov/pubsforms/forms/CtrldForms/cdph0929.pdf). Please inform the ATCS within 60 days of the change. For name changes, please provide proof of legal change such as a marriage or divorce certificate.
Tracy is a city that is part of San Joaquin County. It is a exurb of San Francisco Bay Area. According to the latest census, their population has now reached up to 82,922 people. It has a total area of 22.139 sq miles and a population density of 3,745.5/sq miles. The city was named after a railroad director named Lathrop J. Tracy. Major highways that you can find along and across the city are Interstate 205, Interstate 580 and U.S. Highway 50.
Examples of health care centers that you can find in the city include Gray Robert F MD FACS, San Joaquin County Mental Health Services – Tracy Children's Clinic, San Joaquin County – Public Health Services, Natural Health Center, Healthcare Clinical Laboratories, Gambro Healthcare, and Community Medical Centers. photo attribution: westconn