The CNA Classes in Sun City, California that are provided for you on this page are all the recent and up-to-date nursing assistant classes and health care center nurse's aide training programs that are currently available for enrollment. If you know of any more CNA training programs not shown on this page please contact us so we may include them on this page.
Sun City Convalescent Center
27600 Encanto Drive,
Sun City, CA 92586
(909) 679-6858
Completing a state-approved CNA training program is a necessary step in becoming a nursing aide. Finishing an approved program will make you eligible to apply for the certification exam. Both the federal and state government does not ally any individual to work as a nursing aide in a health care facility without getting certified by the Aide and Technician Certification Section of the L&C Program.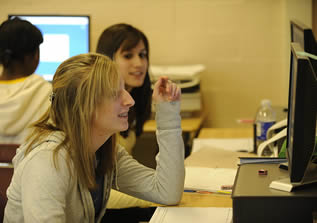 Programs in the state are offered by different institutions such as nursing homes, hospitals, clinics, rehabilitation centers, vocational and technical schools, and government institutions. There are also some websites that have been certified by the CDPH to offer online training.
Nursing aide training in California consists of 150 hours. The hours are divided into 50 hours of lectures and a minimum of 100 hours of clinical practice while under the supervision of a CNA instructor. Students are not allowed to perform any procedure that has not yet been covered in the classroom. Before students handle any patient, they must first spend 16 hours learning the following topics:
•    Medical and Surgical Asepsis
•    Human Anatomy and Physiology
•    Safety and Emergency Care
•    Communication Skills
•    Patients' Rights and Independence
•    Medical Terminologies
After completing the program, the next step is to submit the initial application forms (http://www.asisvcs.com/publications/pdf/070503.pdf) to the ATCS for review. Once they deem you eligible to take the certification exam, you can then complete and submit the Certification Exam Application form (http://www.asisvcs.com/publications/pdf/070508.pdf) and submit it to the Regional Testing Center in your area.
The certification exam in California is conducted and scored by the Pearson VUE Testing Company. The exam consists of a written/oral test and a clinical skills evaluation. Both exams are taken on the same day so please plan accordingly. If you wish to know more about the exam, you can go to www.pearsonvue.com and download the Candidate Handbook. This handbook also contains other information such as the Regional Testing Centers, and the complete Skills List that may come out of the exam.
Candidates are required to pass all the tests to get certified. Each candidate is only given 3 attempts to pass within 2 years after completing his or her training program. If you still fail after your 3rd attempt, you will have to undergo retraining before you can reapply once more.
This was a former CDP are that is located in Riverside County. It is now an incorporated town of the City of Menifee. According to the 2010 census, they have a total population of 17,773. You can also find this town along the Interstate 215 which is just south of Perris. It has a total area of 7.8 square miles.
Examples of health care facilities that you can find in the area include STD Test Express, Kern William A MD FACS, Durga Medical Group, Orthopedics Unlimited Medical Group, Adet Total Health Care, Care Connexxus Adult Day Services, and Monte Vista Medical. photo attribution: departmentofed