Schools that offer students the opportunity to enroll in CNA classes in South Gate, California are listed in detail on this page. If you have any questions about the programs/training, feel free to contact the number provided or go to their office during business hours.
Career Colleges of America
5612 East Imperial Highway
South Gate, CA 90280
(562) 861-8702
A nursing assistant can be defined as a person who is trained to provide nursing care to patients in different healthcare settings while under the supervision of a registered nurse. Nursing assistants are currently in demand throughout the United States. If you are wondering about a way to enter this field of health, you might want to become a nursing assistant.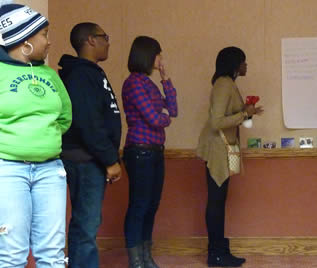 All aspiring nursing assistants are required to complete a state-approved CNA program. Approved training programs are required to offer 150 hours of training. The hours are divided into 50 hours of lectures and 100 hours of supervised clinical practice. There are some websites that are approved by the CDPH to offer online training.
To be able to enroll you must go though state and federal background checks, submit photo I.D, immunization records and have a physical exam to ensure you are healthy and capable to work. These requirements are also important since it will make a big factor if the Nurse's Aide Board will approve your application. You can contact the board through: (916) 327-2445.
General requirements to enroll in a program include the following:
• Age: must be at least 18 years old
• Educational Background: must have at least a high school diploma or a GED certificate
• English Proficiency: must be able to understand and talk Basic English, since most patients will be speaking in English
• Background Check: Thorough background checks are mandatory. The aspirant must not have any record that prevents him or her from getting certified
• Health Condition: must be able physically capable of taking care of different patients and free of any communicable diseases.
CNA training is offered as facility-based and non-facility based programs. They are offered through the following institutions and schools:
• Community colleges
• Vocational colleges
• Hospitals
• Nursing homes
• Assisted living centers
• Technical colleges
• Clinics
• Rehabilitation centers
• Government organizations
• Retirement centers
Most programs can be completed in 2 to 6 months. After you complete your training, the next step is to challenge the NNAAP exam. This exam consists of a written/oral multiple-choice exam and a clinical skills test. It was developed to test the competency of all aspiring nursing assistants. Challenging this exam is the final step in becoming a nursing assistant.
If you pass all the tests your name will be added to the Nurse Aide Registry, and you will get certified. According to the law, only certified nursing assistants are allowed to work in a state-approved nursing facility. Once your name is on the NAR you can check your status by going to http://www.apps.cdph.ca.gov/cvl/SearchPage.aspx.
If you already have a certification, then all you have to do is to apply for reciprocity. When applying, you should still have an active status in your previous state's nurse aide registry. You must also pass the background checks for criminal records. Those who are admitted for reciprocity will still be required to take the two part license exams. This will include a written multiple choice test and a manual test where you must demonstrate five common nurse aide procedures.
This city is part of the Los Angeles County. It has a population of more than 94,396 people according to last year's census. South Gate is considered the 16th largest city in the entire county with its total area of 7.4 square miles. The Los Angeles River runs through the eastern part of this city.
Health care centers that are found in the city are Clinica Medina, Southgate Physical Therapy, Huntington Medical Group, San Miguel Medical Clinic, American Medical Clinic, La Libertad Medical Clinic, Tweedy Medical Center, South Gate Ambulatory Surgery Center, Multi Health Care Medical Center, Tweedy Medical Group, St. Helens Elementary Schools, Clinica Medica San Marcos, Layola Medical Center, Chapel Medical Clinic, and Kamila Comprehensive Health Center. photo attribution: create-learning