CNA classes in Sioux Falls, South Dakota that are listed here are all the certification exam preparation programs that are available for enrollment. For more information, please call the number provided below.
Avera Prince of Peace
4504 South Prince of Peace Pl,
Sioux Falls, SD 57103
(605) 322-5600
Bethany Lutheran Home
1901 South Holly Ave.,
Sioux Falls, SD 57105
(605) 338-2351
Childrens Care Hospital and School
2501 West 26th St.,
Sioux Falls, SD 57105
(605) 782-2300
Dow Rummel Village
1000 North Lake Ave.,
Sioux Falls, SD 57104
(605) 336-1490
Golden Living Center
3900 South Cathy Ave.,
Sioux Falls, SD 57106
(605) 361-8822
Good Samaritan Luther Manor
2900 South Lake Avenue,
Sioux Falls, SD 57105
(605) 336-1997
Good Samaritan Village Marion Road
3901 South Marion Rd.,
Sioux Falls, SD 57106
(605) 361-3311
Good Samaritan Center
401 West 2nd Street,
Sioux Falls, SD 57104
(605) 336-6252
Southridge Health Care Center
3600 South Norton Ave.,
Sioux Falls, SD 57105
(605) 338-9891
Getting into the Nurse Aide Registry and receiving a certificate if the final step in becoming a nursing assistant. In order to get into the NAR, candidates with no background history in the field of health must pass the nursing aide certification exam. To be eligible for the exams, the candidates must attend a state-approved 75-hour CNA training program.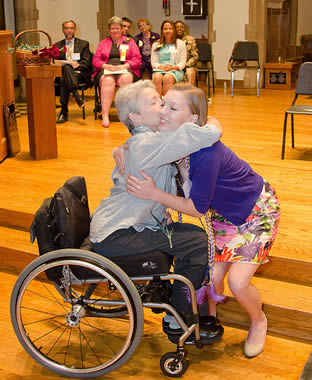 When applying, aside from completing the application forms, candidates must also provide fingerprint cards, photo ID, their Social Security Number, a negative TB test result, and a copy of the certificate of completion of a CNA training program, as well as the required fee of $152.50 for both portions of the exam. Aside from that, you must also pass the routine background check that is done by the federal and the state.
The first part of the exam is the knowledge test. This test is offered in its written or oral version. The oral version is for candidates who may have some trouble reading English. The knowledge test if offered normally as a 75-item multiple-choice written test. To get an oral exam, candidates must submit a letter of request along with the other application requirements. The knowledge test will be selected from 9 different subject areas: safety, infection control, basic rights, basic nursing skills and personal care, roles & responsibilities, physical health and illness, mental health & illness, and aging process. All candidates will be given a maximum of 90 minutes to answer all the questions. To pass, a candidate must get at least 75% of the total score.
The second part of the examination is the practical skills test. In this part, candidates will be tested individually. They will each be placed in a simple scenario where they will be asked to perform 5 nursing skills in front of an evaluator. Four of the skills will be randomly selected from a set list while the first one will be proper hand-washing. Candidates will be given 30 minutes to perform all the procedures. To pass this portion, the candidate must perform all the skills satisfactorily based on the steps listed for each skill.
If the candidate is able to pass both portions of the exam, he will gain entry into the Nurse Aide Registry and will be allowed to work as a certified nursing aide for 24 consecutive months. Only nursing aides whose names are on the Registry will be allowed to take care of residents in different health care facilities.
This city is the county seat of Minnehaha County. This is the largest city that you can find in the state of South Dakota. Some parts of the city also extend into Lincoln County. Sioux Falls was nicknamed as Best Little City in America and Queen City of the West. As of the 2010 census, their total population had reached up to a total population of 153,888. It has a population density of 2,109.1/sq mile. The total area of the city is approximately 73.47 sq miles, where only 0.5 square miles of it is water. Major roads that you can access to get to this area include Interstates 90, 29, and 229.
There are a lot of health care clinics that are located in the area, they include Southeastern Behavioral Healthcare, Dakota Chiropractic & Wellness Center, Foot Surgical Center PC, Center For Family Medicine, Johnson Chiropractic And Acupuncture, Dakota Chiropractic & Wellness Center, Sioux Falls Surgical Hospital, Sanford Clinic Acute Care, Orthopedic Institute, Sanford Children's Specialty Clinic, and many more. photo attribution: nazareth_college